An exciting project to preserve Shropshire's musical heritage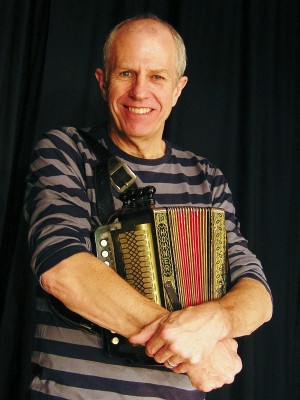 The first 20 tunes have been added to the Shropshire Tune Archive and a downloadable resource pack will be available from here soon.
John Kirkpatrick, who lives near Bishops Castle, has selected tunes including The Shrewsbury Rakes, General Hill's Favourite, and the intriguingly named Lumps of Pudding!
John: "Trawling through the musical history of Shropshire has unearthed some great music that tells the story of life in our county at different times.
"From a tune that was played as the crowd would process to the Shrewsbury Show in the 1800s to several dance tunes from a carpenter in Newport, there is some wonderful music that will now be preserved forever and shared with a new audience.
"As a musician, it was a privilege to be able to record this material and I hope that the archive will be put to good use for the next generation of Shropshire musicians."
All Together Now Project Manager Joy Lamont: "We look forward to working with John as he shares the tunes at future festivals and through workshops with the Shropshire Youth Folk Ensemble.
"The archive is a wonderful legacy of this project but this is just the start. We will be working with other musicians and historians to add to it in the future so tunes that originated in our county can be permanently recorded so they don't disappear from our history."
All Together Now is the festival's two-year programme of activities for musicians, dancers, schoolchildren and communities to introduce a new audience to folk and world music.
The project received an £86,410 investment from the National Lottery through Arts Council England, a £5,000 Arts Development award from Shropshire Council, and £2,000 from Shrewsbury Town Council. The Festival will meet the remaining cost. 
The Shropshire Tune Archive – notes by John Kirkpatrick
Shrewsbury Quarry (No.1) is the only dance tune given in Charlotte Burne's book from the 1880s – "Shropshire Folk Lore". The tune was played in procession on the way to The Shrewsbury Show, held at Kingsland, and consequently for dancing once all had arrived. The usual name for the tune is La Belle Catherine, and it is included in almost every collection of dance music throughout the nineteenth century.
Several of the other melodies with place names in the title come from the masses of country dance collections (each dance given with its appropriate tune) that poured off printing presses from the middle of the seventeenth century till the First World War. From these we have The Shropshire Lass (No.2 – 1713), The Shropshire Round (No.3 – circa 1650), The Shrewsbury Rakes (No.4 – 1756), and Oswestry Wake (No.5 – 1728).
The same source also gives us General Hill's Favourite (No.13 – circa 1812). He was born Rowland Hill at Hawkstone in 1772, was commissioned into the army in 1790, and rose through the ranks during the Napoleonic Wars to become Wellington's right hand man, eventually becoming elevated to the peerage in 1814, and commander in chief of the British Army in 1829. The monument erected in his honour as Lord Hill, 1814 – 1816, which still dominates the skyline of the county town, is the tallest Doric column in England and is two feet fatter than Nelson's Column in Trafalgar Square.
Shrewsbury Waltz (No.6), The Ironbridge Hornpipe (No.7), and Wellington Hornpipe (No.8) all come from an amazing hand-written manuscript compiled by John Moore, an amateur fiddler who worked as a seedsman and nursery man in Wellington in the 1830s. With about 150 dance tunes included, as well as many sacred pieces, it is a fascinating record of what a working musician was expected to have in readiness. From his pages we also have The Reform Quickstep (No.17), Mad Moll (No.18), Master Tommy's Married (No.19) and The Sylph (No.20). Mr Moore's books also included different versions of La Belle Catherine, Shropshire Round, and Three Jolly Sheepskins.
William Titley was a carpenter who lived in Pave Lane, near Newport, during the latter part of the nineteenth century, and who played flute, piccolo, and fiddle. He was in great demand for dances, and was frequently summoned to play for a clientele in Shrewsbury who could afford to send a horse and cart to pick him up. Like John Moore, he compiled a book of dance music in his own hand, and from this we have an unnamed polka, now renamed in the compiler's honour as William Titley's Polka (No.9), The Victorine Polka (No. 10), and The Strolling Players (No.11).
Lumps of Pudding (No.12) comes from an article in The English Folk Dance and Song Society's Journal from the early 1930s, with a very detailed account of a dance on the village green at High Ercall in 1686. An extremely long and complicated dance, for six in a set, is described, with different tunes being used at different moments during the dancing. This is the only tune given in the article, as the others were "not of the slightest interest".
Three Jolly Sheepskins (No.16) was collected by Cecil Sharp from the fiddler James Lock in Newport in 1912. There are countless other versions of the tune – John Moore knew it, and printed versions date back to at least 1698. It was used to accompany The Sheepskin Hey, a figure where three people would dance around three hats (presumably, originally, sheepskins) on the floor in a perpetually changing order, until someone went wrong and had to buy the other two a drink! It was a popular party game in this part of the world.
Dennis Crowther – The Clee Hill Poet – was a popular and locally much loved entertainer, singer, and musician who kept his audiences around South Shropshire in fits of laughter right up until his death a few years ago. As a boy between the wars he had gone round with the village gang bashing out a few tunes to earn some extra coppers for Christmas. As long as you could play the tunes, there was no need for titles! Hence Dennis Crowther's No. 2 (No.14) and Dennis Crowther's No.3 (No.15). Fascinatingly, the original of Dennis' No 3 turns out to be called The Moldavian Schottische, and is included in William Titley's tune book mentioned above.