John Jones
To see a festival come together each year is one of the most rewarding and stressful experiences you can have, expecially when the cause of any uncertainty is completely out of your control.
What you hope is that events and opinion will move with you and you go ahead and create probably the most exciting line-up of any folk festival this summer.
Hats off to Shropshire Council and the site owners for their support. The festival goes from strength to strength and that feeling of permanance and feeling 'at-home' on this perfect site just adds to the buzz.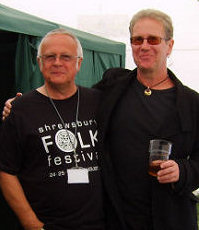 Steve Knightley
I was both proud and delighted when asked to become patron of Shrewsbury Folk Festival in 2011. In its attention to detail and the respect and consideration shown to both artists and audience, the festival has now become one of England's premier folk and roots summer events.
It's rare to be asked for feedback by festival organisers but Alan and the team have gladly put in all place all of the ideas that I and many others have made to make both the performer's and the audience's experience more rewarding and memorable. The end result is a festival that goes from strength to strength and is now on the 'must play' list of musicians from all around the world.