Limited edition festival t-shirts are now available to order!
We feel that, as sad as it is to lose the 2020 festival and that the wait for August 2021 will be tough, when it does get here it will be worth the wait!
"A pleasure postponed is twice as sweet" as one festivalgoer wrote to us to say.
We have a choice of two t-shirts, designed by M A Creative in Shrewsbury and printed to order by Flood in Newport, with the special design for 2020-2021. They are both black and available in a unisex round neck with blue design or a deep v-neck shaped t-shirt with pink design.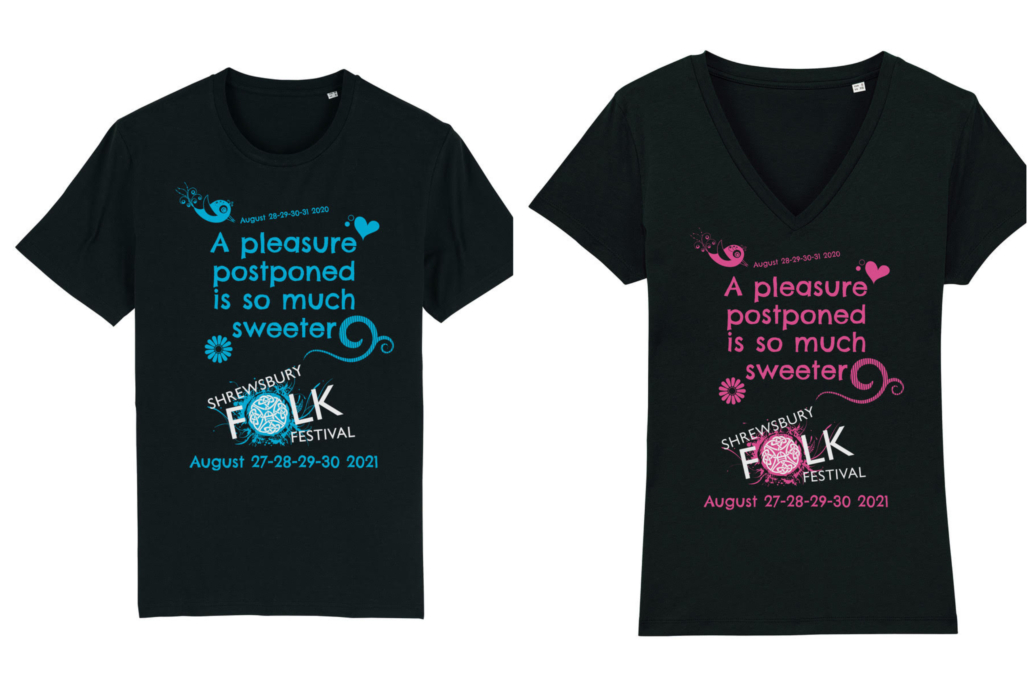 SIZES
Sizes below are a guide to the actual measurements of the material size and not your chest size. Please be very careful when you order as we cannot swap it for a different size nor can we refund.
Unisex round neck t-shirt (blue design) around the chest:
Small 34" / Medium 40" / Large 43" / X Large  45" / XX Large  48" / XXX Large 50"
Deep v-neck shaped t-shirt (pink design) around the chest:
Small 35" / Medium 37" / Large 39.5" / X Large  42"/ XX Large  44"
COST
Each t-shirt is £20, which is higher than it would be in the festival merch tent, but this covers the costs of postage, packaging and PayPal (2.75% per transaction).
If you wish to add a small fundraising donation to the festival as well that is very kind but you aren't under any obligation to do so!
HOW TO ORDER
Email joy@shrewsburyfolkfestival.co.uk and supply the following information – you can copy and paste this information and edit as applicable:
Name:
Postal Address:
Style / Quantity / Size:  Please specify the style, size and quantity of each t-shirt required
Order value: Total the value of your order and any donation you wish to make and pay via PayPal.
Name of payee: Only if different to order name
TIMEFRAME
These are special made-to-order t-shirts with a minimum order requirement and will take 3-4 weeks to prepare and dispatch.
The first deadline for ordering and to guarantee receipt of your t-shirt ready for Virtually Shrewsbury Folk Festival is July 20th.
Orders or payments received after that will be processed after the second deadline of September 7th.
https://shrewsburyfolkfestival.co.uk/wp-content/uploads/sff-logo-2020.png
0
0
Jo Cunningham
https://shrewsburyfolkfestival.co.uk/wp-content/uploads/sff-logo-2020.png
Jo Cunningham
2020-06-18 16:17:44
2020-06-25 10:10:32
2020 t-shirts available now!