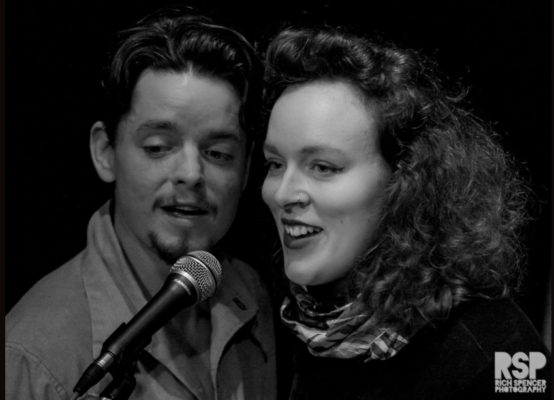 From the rolling hills of Staffordshire to the Appalachian mountains, 'A Different Thread' play what they call 'British-Americana' (and not just because one of them is from the US and one from the UK), their original sound is "nothing short of intoxicating" (Hits In The Sticks) and is inspired by the songs that have crossed and crisscrossed the Atlantic Ocean over the generations in true folk fashion, weaving together elements of country, blues and bluegrass with traditional English folk and the echoes of an old Irish murder ballad.
Inspired by the likes of Bob Dylan, Joan Baez, Johnny Cash + June Carter, Doc Watson, Joni Mitchell and Bert Jansch, as well as more contemporary artists such as Willy Mason, Gillian Welch, The Cranberries, Fleet Foxes and Rhiannon Giddens + the Carolina Chocolate Drops.
At the core of this project are multi-instrumentalists Robert Jackson from Lichfield, England and Alicia Best from Durham, North Carolina, USA.  Since they met, a little over two years ago, they have been touring relentlessly and collaborating with different artists as they travel throughout the US South, East coast, Guatemala, UK, Ireland, France, Belgium and the Netherlands.
Travelling is also common theme in Jackson's songs (which make up the bulk of their two EP's), telling tales of adventure, bitter romance and the duality of returning home and leaving, delivered with a "strong, soulful voice" (FATEA magazine) and "thought provoking, well crafted lyrics" (Gordon Giltrap).  Alicia's tight vocal harmonies harken back to ages past, her driving suitcase drum kit keeps the pace moving while the fiddle and harmonica combo lifts their music up with an impulsive edge.
Following a spring 2018 tour of the 'Virginias and Carolinas' A Different Thread is heading to Arbor Ridge Studios in Chapel Hill, NC to record their first full album with producer, Jeff Crawford (Mipso, Mandolin Orange, Rachel Kiel, Josh Moore). This 12/13 track LP will see more collaboration between the two songwriters and will feature musicians from Alicia's home state, North Carolina. A Different Thread will be returning to the UK for the summer festival season including Maverick Festival, Y-not and Shrewsbury Folk Festival.
"These guys sound like a mature bottle of wine."  (Claire Cavanagh, BBC Radio Bristol)
"It certainly touched my heart."  (Sam Bonham, BBC 6 Music)