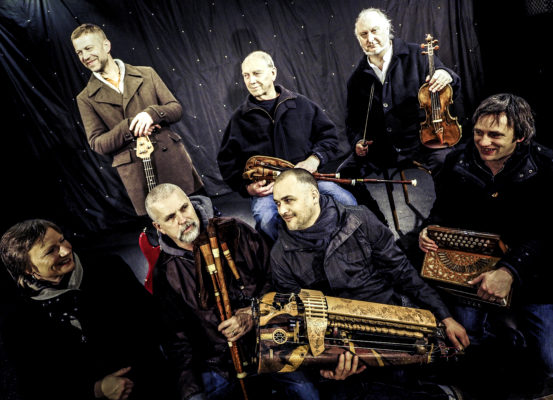 Celebrating 40 years in 2018.
BLOWZABELLA celebrate 40 years of their inimitable, drone-based wall-of-sound with a new album 'Two Score', a new book of tunes 'More Scores' and gigs and festivals in the UK and the EU.
BLOWZABELLA is a genuinely unique band that makes an inimitable, driving, drone-based sound played with a fabulous sense of melody, rhythmic expertise and sheer feeling. They compose their own music which is influenced by English and European traditional folk music and song.
Andy Cutting – diatonic button accordion; Jo Freya – vocals, saxophone, clarinet; Paul James – vocals, bagpipes, saxophones; Gregory Jolivet – hurdy-gurdy; David Shepherd – violin; Barn Stradling – bass guitar; Jon Swayne – bagpipes, saxophone.
All the band members compose and many of their tunes are "standards" in the modern British/European folk repertoire and are played by people all over the world. Bands across Europe who experiment with folk music often cite Blowzabella as a major influence. Much loved and respected, there is no one else quite like them.
" Then Blowzabella introduced a set about "death, and things going wrong … but we do play happy tunes too, honest!": the folk legends' Saturday-night headline slot was original and enjoyable. It also offered the rare opportunity to witness the versatility of a hurdy-gurdy in the skilled hands of Grégory Jolivet.  The British and European traditions that Blowzabella blend brought a welcome but all too rare foreign accent to the music. With so many nations shaping our past, present and future, where were the musicians who can enrich English folk with their mixed heritage?  
Review of Blowzabella's headline set at Folk East, August 2016.
Imogen Tilden.  THE GUARDIAN
 "If ever a band was overdue a lifetime achievement award it is Blowzabella. Not only have they written a stack of what have become standard tunes in sessions on both sides of the channel, but they have also been largely responsible for reviving English Bagpipes and hurdy-gurdy, instruments that played a foundational role in traditional music."
Andrew Letcher. SONGLINES.
"Musically I'm inspired by all sorts: a lot of electronica, like Autechre and Funkstorung, and pop music and bands too, people like David Bowie and The Ramones, and these weird folk records like Blowzabella."
Joseph Mount, aka METRONOMY.
"I'm a massive fan. Huge. All my life I've loved Blowzabella and have watched you all live loads of wonderful times. I emailed you years ago, and we spoke about how children seem to love Blowzabella's sound. And I just thought I'd email again now I have children of my own. A daughter and a son. I can now confirm that your music is still a firm favourite of the next generation. We love you. Always have, always will. I just want to say thank you."
Beth
"Blowzabella deliver that rare beast – a live album that somehow manages to capture the rampaging spirit of musical freedom that first marked them apart from all other bands… and has never been replicated since."
Colin Irwin. fROOTS.