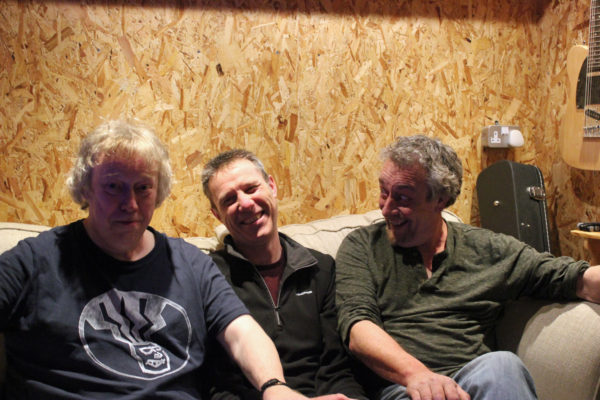 Growing up in Belfast in the 70's, the FOS brothers fuse an eclectic mix of their own original songs with traditional Irish sensibilities flavoured liberally with Floydian/Genesis/Horslipian spices.
Their mix drums, percussion loops and samples and soaring guitars and bass delight festival and venue audiences and that's even before they start singing!
March 2017 saw the release of their new CD 'Clear Again' featuring many guest musicians who have worked with the band over the years (Sarah Jory, Ted Duggan, Leon Hunt and Jon Strong) The CD was mastered by Simon Heyworth, who is noted as co-producer of Mike Oldfield's Tubular Bells and many King Crimson albums.
FOS Brothers will be performing as a trio at the festival on Sunday. Their bass player is looking after his chickens.
The line up  :
Sam McCrory – Vocals, Guitar
Dave McCrory – Acoustic and Electric Guitar, Mandolin, Bass
Rom Dobbs – Drums, percussion, samples and loops
TESTIMONIALS
Bucolic folk has a psychedelic head-fit (Ritz Acoustic Club)
A stirring fusion of original and traditional songs on hypnotic acoustic guitars to 21st century dance grooves. (Steve Knightley – Show of Hands)
The band has a musicality and flexibility that is rare among the plethora of mediocre folk/rock bands around. Additionally the brothers are Irish, and this prevailing influence, gives a genuine Celtic flavour to the music. I will be booking them again, both here and at my other venues and highly recommend them. (Dave Bassett – The Buttermarket Jazz & Roots Club, Shrewsbury)
The FOS brothers have become an institution in this town. Every time they play here I get requests to have them again, their blend of intelligent, funny, and moving songs always goes down well with our audience (Declan Connolly – SPAN Arts, Queens Hall, Narberth)