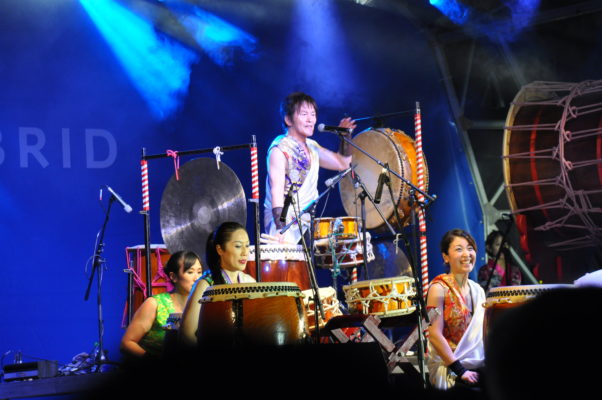 About Guo Yue
&

Joji Hirota
Guo Yue & Joji Hirota will perform together with members of the London Taiko Drummers.
Joji's prolific career spans over 30 years and 16 albums, sculpting dynamic landscapes of rhythm and haunting melodies with the themes of nature and the beauty in every day life. Since receiving a commendation from the UK Japanese Embassy from Ambassador Orita in 2003 for his contribution to Japanese culture overseas through his musical activities, he has continued to work on a vast number of diverse projects, and with his recent 'Beyond The Requiem' charity concert tours with the London Metropolitan Orchestra in the UK and Japan, has strived to make a difference by supporting the people affected by the Earthquake disaster of 2011 through music.
Yue studied the silver flute at the Guildhall School of Music. Since living in England, he has composed, arranged, performed and recorded traditional Chinese music. In I990 with his brother Guo Yi, who plays the sheng (an ancient hand-held bamboo wind instrument), they made a Real World album called Yuan, which also features the voice of his second sister Xuan. As the Guo Brothers, they performed at international festivals and concerts, including WOMAD (World of Music, Arts and Dance) festivals worldwide.
Not wanting to be confined to traditional Chinese music, since 1990 Yue has worked as a soloist, writing his own music. He has collaborated with musicians and composers from Africa, Italy and Japan. In 1992 he recorded Trisan with Japanese taiko drummer Joji Hirota and Irish singer/composer Pol Brennan, winning a U.S. instrumental award. In 1999 Yue performed his bamboo flutes concerto My Peking Alley with the BBC Concert Orchestra at the WOMAD Festival in Reading.
Yue has also worked on the soundtracks of several international films, including Bertolluci's Oscar-winning 'The Last Emperor' and 'The Killing Fields.' He also played the soundtrack theme, composed by George Fenton, for the Emmy award-winning Channel Four television documentary 'Beyond the Clouds,' directed by Phil Agland, who commented: 'In the magical hands of Guo Yue, the bawu flute creates sounds that haunt the soul.'
In 2006, Guo Yue released Music, Food and Love, a musical companion to his book of the same name. Both book and album offer an evocative journey through Guo Yue's remarkable life — from his early years in The Hutongs of North-East Beijing, through the 1966 Cultural Revolution that exploded when he was just eight years old, to his 1982 departure for London and his vivid, bittersweet memories of his recent visits back to China. Produced by Richard Evans, the album was recorded in Beijing, Bath, and Budapest.