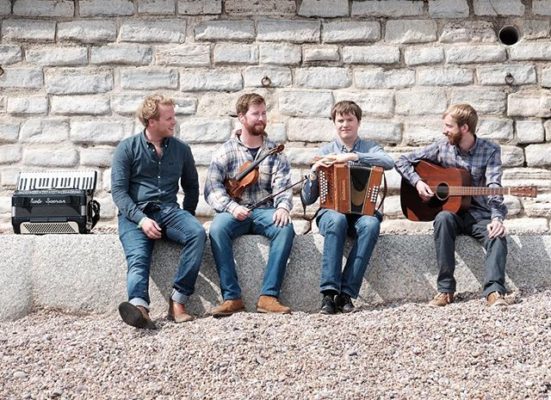 Offering something for all tastes in folk, Inlay are a forward thinking quartet based in Norwich. With the aid of fiddle, banjo, guitar and accordion, they blend traditional material with self-penned compositions. Inlay have been delighting audiences at venues across the UK as well as regular appearances at some of the country's leading folk festivals.
"Heritage and innovation brought together without a visible seam"

"Contemplative folk that looks backwards to move forwards"
★★★★
Songlines
"Inlay is a very impressive debut album with a visionary take on what folk music can be and where it might go."
★★★★

R2 – Rock 'n' Reel
"Something for the traditionalist, something for the modernist – and something for you." Bright Young Folk
"Forward thinking four piece produce a full bodied sound for their energetic and enterprising own compositions that preserve traditional influences within a fluid, evolving musical landscape."
fRoots
"Touching and rather beautiful modern folk."
Inlay are:
– Fiddle, Vocals
– Five String Banjo, Slide Guitar, Charango, Bansitar
– Guitar, Vocals
– Accordion, Percussion, Vocals.