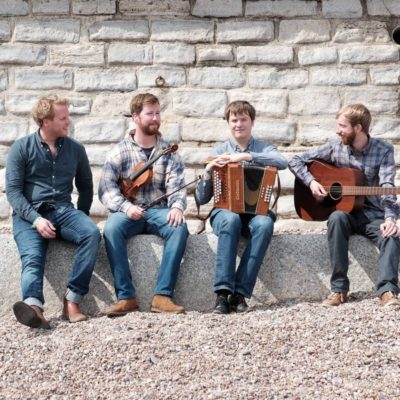 Offering something for all tastes in folk, INLAY are a forward thinking quartet. With the aid of fiddle, guitar, harmonica, accordion and melodeon, they blend traditional material with self-penned compositions.
Autumn 2017 sees three-time BBC Folk Award nominee, Will Pound join the band to make up the new fourth member of Inlay.
Inlay was always supposed to be a quartet and the band are really excited by what Will is bringing to the group, and look forward to taking this lineup on the road in 2018.
"Heritage and innovation brought together without a visible seam" ~Folkwords
"Contemplative folk that looks backwards to move forwards" ~Songlines
"Inlay is a very impressive debut album with a visionary take on what folk music can be and where it might go." ★★★★ R2 – Rock 'n' Reel
"Something for the traditionalist, something for the modernist – and something for you." Bright Young Folk
"Forward thinking four piece (violin, banjo, accordion, guitar & slide, percussion) produce a full bodied sound for their energetic and enterprising own compositions that preserve traditional influences within a fluid, evolving musical landscape." Froots 357 March 2013
"Touching and rather beautiful modern folk"  Timeout
Inlay are:
– Ross Grant – Violin, Vocals,
– James Porter – Guitar, Vocals,
– Will Pound – Harmonica, Melodeon
– Andy Weeks – Accordion, Percussion, Vocals.