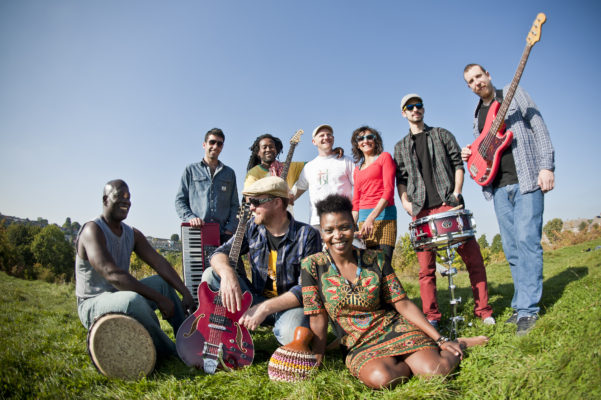 Formed by a multi-national collective of musicians with a common love for African roots music, Mankala's sound is greatly influenced by a variety of styles, from the joyous sounds of Soukous, Township & Sungura music to the hypnotic grooves of Afro-Beat and the Desert Blues, forging an 'original high energy African fusion' with a distinctive style and a positive message.
Mankala have been performing their unique pan-African-coalition of sounds across the lengths of the UK and beyond since 2003, from the local music venues and streets of their home town of Bristol to the internationally renowned Jazz World Stage at Glastonbury Festival (now The West Holts), via the beautiful fields and stages of Shambala, Green Man, Sunrise, Mannifest, Secret Garden, Larmer Tree, Bestival, Somersault and many many more!
Great musicians from the UK and the world have worked and collaborated with Mankala, both on tour and in the studio, some of them leaving their musical imprint engrained in the bands sound. We are deeply grateful and know that without them Mankala wouldn't be what it is today, but one thing is for sure, throughout the years the band has always maintained the original energy and drive, with one prevailing vision: the best music is always still to come! Mankala has released 3 studio albums, 'Speak Your Mind' (July 2007), 'Remedy' (Oct 2013) and 'International Feeling' (Feb 2017), each representing the climax and culmination of a band era. All three albums repertoire of original tunes encompass a wide span of pan-African influenced sounds and feature musical collaborations with some of Bristol's best talent as well as international guest appearances.
THE MANKALA CREW:
Christian De Juan (UK/Spain) – guitars, backing vocals, percussions, production, management
Simwinji Zeko (Zambia) – guitars, backing vocals
Bi Do Zavoalo (Ivory Coast) – djembe, percussions
Sisanda Myataza (South Africa) – vocals
Mark Leaver (UK) – lyrics, vocals
Guillaume Ottaviani (France) – electric bass, double bass
Paolo Adamo (Italy) – drum kit