What can we say about Pandemonium! our children's festival?

Kids love it (and so do the parents) and we have great fun creating an amazing weekend of music, dance, song, drama and crafts for children aged from birth to 10. Pandemonium! grows and changes every year with a different theme and new activities and workshops to enjoy.
From its hub just off the main area, the kid's zone is close to the village stage and perfectly positioned for parents and children to have fun together, safely tucked in an area of the site, but close enough to the action for it to be a real part of the event. We also have our Wee Folkies area which has a baby changing and feeding area, as well as a whole programme of activities for the under fives.
It all culminates in performances on the village stage and a magical lantern procession around the site on the Sunday night, where musicians, children and parents proudly parade around the site displaying the fruits of their labours!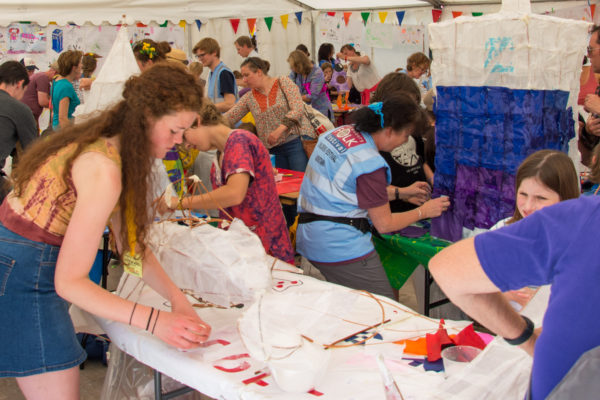 In 2017 we looked to the future, this year we're going back in time, way back, to the time of the dinosaurs! 
Rumour has it that an egg has been discovered on site, could it be a dinosaur egg? It is certainly big enough! Our resident theatre company Highly Sprung are keen to find out, can you help them? Our team of brilliant Pandemonium! crew will be on hand to help and show you the ropes.
Garry from Off Our Trolley is going to be bringing the Triassic period right into the Pandemonium! tent with his giant creations, junk modelling and costumes. His workshops are always popular so arrive early to avoid disappointment. New for 2018, why not come and learn a new skill? Hanny Newton is leading embroidery workshops where you can create fabulous fossils to take home.
You have spoken, and we have listened, so this year we are trialling some special sessions for the older children (8-10 years) where they can attend without an adult. They will need to be signed in and collected at the end of the session, but we hope that this will allow them to feel more independent and give you parents time to enjoy a workshop or performance yourselves.
As ever we have our big band workshops, so bring your instruments and learn some tunes. Would you like to join our Pandemonium! singing and signing choir? We think this new workshop led by Cat Kelly is going to be popular so come early to join in and have a great time learning some dinosaur signs and songs.
Last year's Tails and Tales treasure hunt is back with a dinosaur theme, join Dawn and her team of storytellers as you hunt through the festival site for clues and prizes. There will be loads for the under 5's to do too, with the Wee Folkies area which is open from 10-7 every day, with fun sensory experiences and tailored activities. It's also a nice area to relax and feed your baby or toddler, or get out of the scorching sunshine (we hope)!
Shrewsbury Folk Festival wouldn't be Shrewsbury Folk Festival without our famous lantern procession. Come to at least two lantern making workshops to build your dinosaur or fossil (or maybe volcano or asteroid) themed lantern and then join in the procession on Sunday night. Who can build a Tyrannosaurus Rex lantern? This is always a highlight of the festival weekend and not to be missed.
Keep an eye on this page for more workshops to be announced and times so that you can plan your weekend. All the workshops are first come first served so plan ahead if there is something you really want to do. We also insist that parents/carers stay with their children during workshops, except for our new special sessions for 8-10 year olds which will be labelled with an 8* in the programme.