Dance workshops
As part of our educational outreach in Room for All, we organised two special workshops aimed at spreading the message about traditional English dance to a new generation of children.
On June 15, Breaking Tradition delivered a day-long workshop to give Shropshire primary teachers an insight into how to combine folk dance with contemporary hip hop and how it can be incorporated in the timetable for lessons in dance, fitness or culture.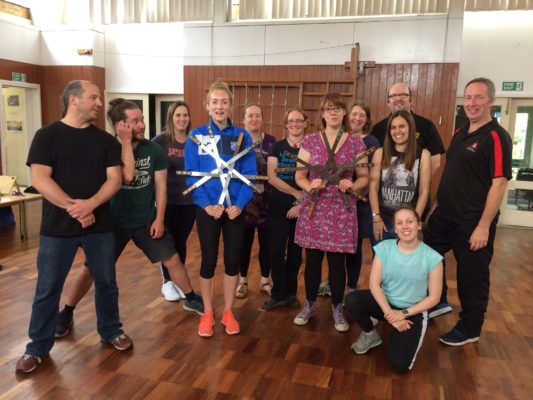 Breaking Tradition also led a session for the junior rapper dance teams based at Trinity School in Ford, near Shrewsbury, to learn new figures, dance tunes, and clogging on June 14. The teams were formed during our previous All Together Now project.
Head Teacher of Trinity Primary School John Rowe: "Our children, many of whom had no experience of folk music or dance, have adored learning rapper dance.
"It's been a really fun and dynamic way to get them active and learning lessons about our culture and others."
Listen here to BBC Radio Shropshire's news report on the children's rapper workshop. Thanks to Trinity Primary School in Ford for hosting both events!
Further practical dance training exploring themes of diversity and inclusion through dance were held for invited primary school teachers at Theatre Severn's dance studio. It will look at new ideas for teaching dance in the classroom at both KS1 and KS2.
School workshops
During the course of the 18-month Room for All programme we have reached more than 300 children across Shropshire and Staffordshire with education activities including music masterclasses from folk and world musicians and dance sessions blending Kathak, an expressive form of Indian movement, with contemporary dance.
Watch this excerpt from a workshop with Joe Broughton at Old Park Primary in Telford:
Project manager Joy Lamont: "Room for All aims to raise awareness and celebrate cultural diversity in an exciting way. The widespread educational outreach has given us the opportunity of delivering some top quality provision to a younger audience whilst sharing important messages about different traditions.
"Helping teachers to reinforce those messages through their music and dance curriculum is vital if we are to continue preserving and sharing our traditions for years to come."
Room for All is funded by the festival, supported by a £95,000 investment from Arts Council England and a £1,000 Arts Revenue Grant from Shropshire Council.
We are also making a film to support staff to teach dance as part of the National Curriculum that will available as an online teaching resource on our website later this summer.