Refolkus: Shrewsbury Folk Festival's own unique Youth Festival. Find us at the Reef!

Finally, what you've all been waiting for. We're proud to present the biggest, loudest, craziest and most exciting Refolkus programme yet.
Whatever floats your boat, there'll be something for you at the Reef from making music, unleashing your inner artist, gettin' on down to some funky beats or testing your acrobatic nerve.
All the legendary trad music and dance workshops will be back, bigger and better than ever before, as well as some completely different fresh new youth-only events to keep you on your toes over an action-packed weekend.
With more chances to strut your stuff on the stage, learn some completely awesome new skills and just chill out with new friends, if you're aged 11-20, the Reef will definitely be the place to be. So don't miss it!
If you're not sure what it's all about, why not check out these videos of performances in the Sabrina Marquee?
Refolkus Super Choir performance
Refolkus Big Band performance
THE MASTERCLASSES*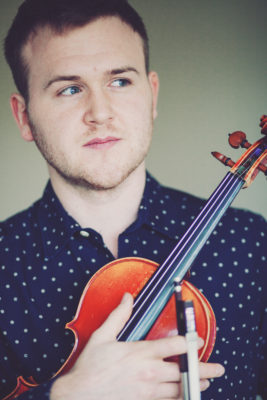 Fiddle: Friday 14.00 – 15.00 (upstairs in The Hub)
Fiddle superstar Sam Sweeney will show you how to bring your tune playing alive, suitable for intermediate to advanced players.
Guitar: Friday 15.00 – 16.00 (upstairs in The Hub)
Greg Russell will take your guitar playing to the next level with exciting new tips and tricks, suitable for intermediate to advanced players.
* Places limited: first come, first served!
ALL-STAR BIG BAND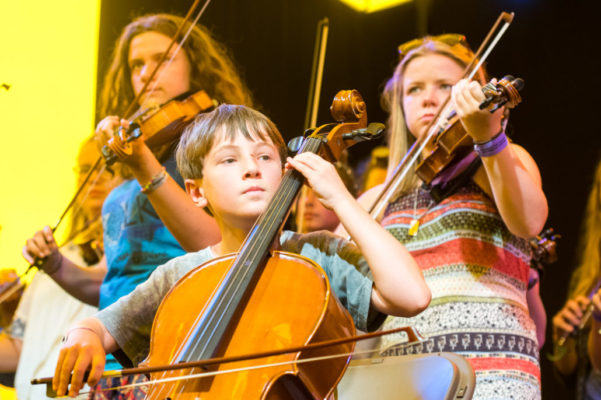 Saturday and Sunday 10.00 – 11.30
Monday rehearsal 9.00 – 10.00
Yes, the world renowned All-Star Big Band is back featuring all the most up-and-coming folk talent – yes, that's you! So whatever and however you play, come and make some seriously spectacular sounds with Matt, Dave, Tim and Jared. *progressive workshop*
SUPER-CHOIR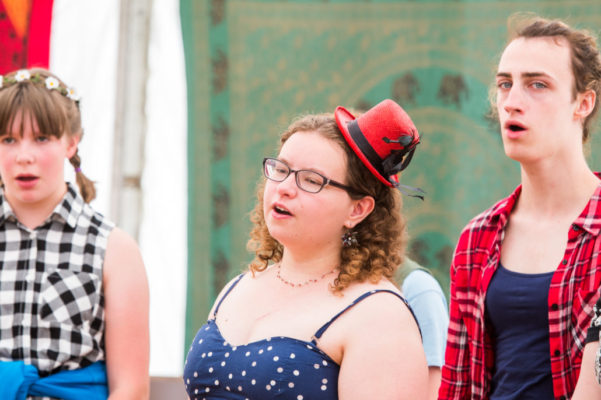 Saturday and Sunday 11.30 – 12.45
Monday rehearsal 11.00 – 12.00
What better way to blow the cobwebs away than by raising the roof off the Reef – join Cait and Harriet for some fantastic harmony song from all over the world that's guaranteed to get your toes tapping, your lungs pumping and your spirits soaring. *progressive workshop*
RAPPER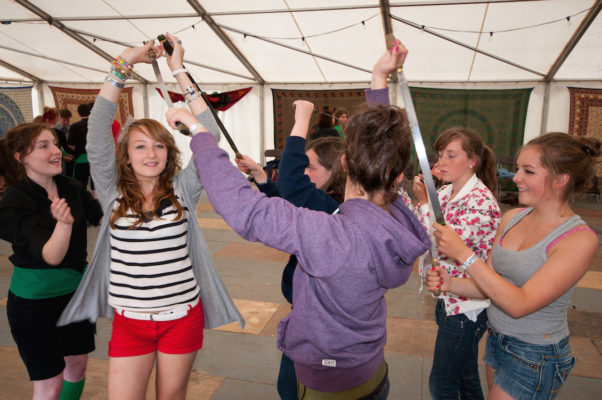 Saturday and Sunday 12.45 – 13.45
Monday rehearsal 13.15 – 14.15
The legendary Four Corners Rapper return to Shrewsbury Folk Festival to show you how to do the nut, the choker and the cramper, or even the toast rack… Believe, it or not, this isn't a form of medieval torture but is actually a dance with swords at breakneck speed – what could possibly go wrong?! *progressive workshop or give it a go if there are enough people to make a team*
FUNKY JUNK PERCUSSION
Saturday and Sunday 14.00 – 15.15
Monday rehearsal 10.00 – 11.00
Create a cacophony of awesomeness with dustbin lids, car wheels, drain pipes and scrap metal. Junk Percussion (aka The Scrap Heap Challenge) will leave you upbeat and buzzing. You can learn to play the clank-a-phone, bat-phone and the chain gang; this is music like you've never heard it before! *progressive workshop*
ACROBATICS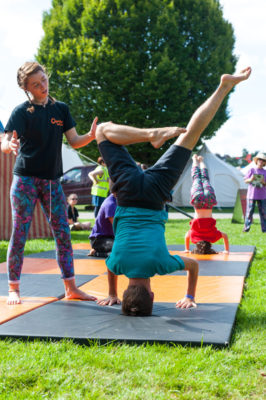 Saturday and Sunday 15.30 – 16.30
There's no need to run away and join the circus, you can unleash your inner acrobat in the Reef. With expert instruction from Organised Kaos, learn some impressive gymnastic feats and "tumble" across the floor with ease. No experience required, make sure to wear comfy clothes. *give it a go*
HENNA TATTOOING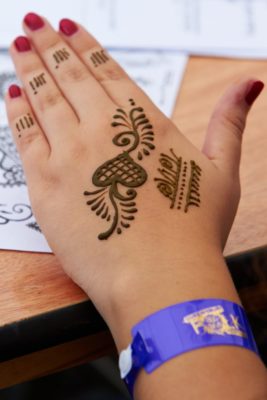 Friday 17.00 – 18.00 (upstairs in The Hub)
Saturday and Sunday 16.30 – 17.30
Monday 15.00 – 16.00
We've all got our fingers crossed for an Indian summer, but even if the clouds prevail we'll be making the most of it as the beautiful eastern art of Mehndi comes to the Reef. Check out what this fabulous body art is all about and create your own unique designs using natural henna pastes. N.B. This is a super popular workshop and places will be limited per session. You can sign up for sessions over the weekend from 5pm on Friday at the first henna workshop. *give it a go*
notorious J.I.G HIP HOP CEILIDH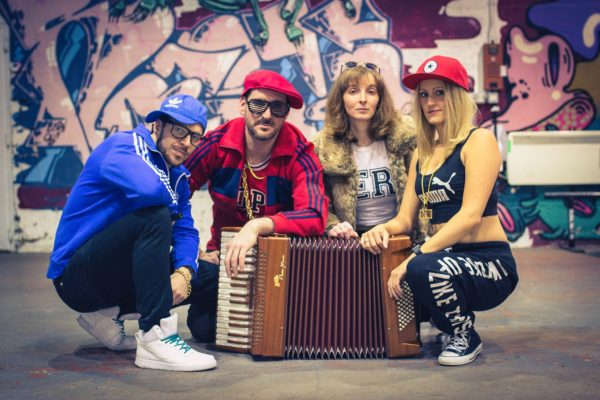 Saturday 17.30 – 19.00
notorious J.I.G mix the hottest breaks from old school and modern hip hop, disco and funk with blistering traditional tunes on fiddle and accordion. Whether you're a ceilidh pro, festival fashionista or full on beat-seaker, notorious J.I.G are bringin' the party so don't miss the chance to get on down! No experience necessary: MC Jiggie Smalls will show you how to bust some ceilidh moves, from do-si-doing to stripping the willow. *give it a go*
REFOLKUS TUNEWORKS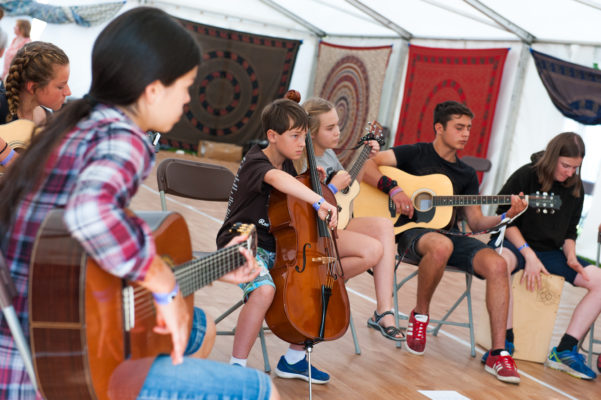 Sunday 17.30 – 18.30
The famous Tuneworks session comes to the Reef! A session is where musicians get together to play tunes. It's one of the most important parts of our musical tradition and any budding folk musician should definitely give it a go. Make sure to download the Tuneworks tune book from www.tuneworks.co.uk, it's even available in B flat and E flat! Tunes will be played at a steady speed.
You can try to learn some by heart but you're also welcome to bring the book along if you prefer. *give it a go*
SLACKLINING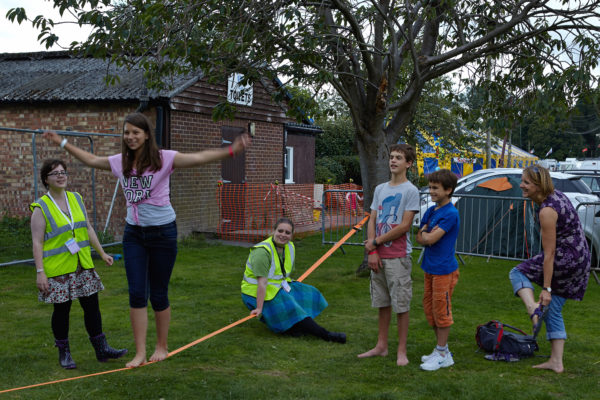 Saturday and Sunday 13.00 – 15.00
Monday 10.30 – 12.30
Put your balance to the test on the mighty slackline. Slacklining is an extreme balance sport that stems from tightrope walking. Relying on your agility, stability and focus, just try to make it across the line or give some tricks a go, it's up to you! *give it a go*
SKY CIRCUS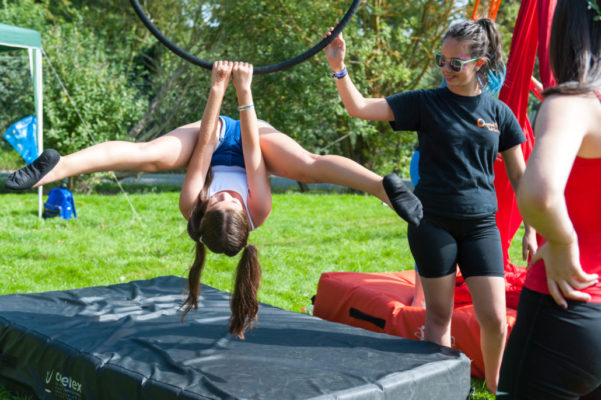 Saturday and Sunday 10.30 – 13.00 and 14.00 – 16:30
Monday 10.00-14.00
Feeling daring? Here's your chance to "fly through the air with the greatest of ease" and discover your inner acrobat with Organised Kaos Youth Circus. Test your balance, grace, coordination, agility and courage out with a range of aerial skills such as Static Trapeze, Silks, Corde Lisse and Aerial Hoop on Organised Kaos's epic aerial rig under the watchful eye of their highly skilled aerialists. *give it a go*
REFOLKUS SHOWCASES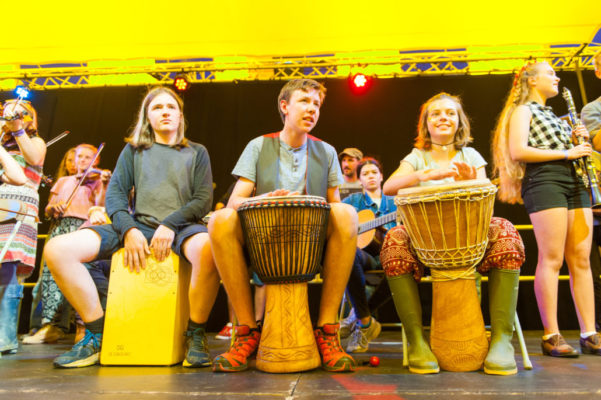 Monday 12.30 – 13.00 in Sabrina Marquee
Don't miss the Big Band, Super-Choir and Junk Percussion performances in the Sabrina Marquee!
Monday 14.25 – 14.45 on Village Stage
Don't miss the Rapper performance on the Village Stage!
Please note: workshops marked *progressive workshop* will be leading to a performance on Monday afternoon and so priority will be given to participants who attend from the first session on Saturday. Workshops marked *give it a go* are open to anyone to drop in (subject to maximum numbers).
A sign-up list will be used for henna and other workshops when they are full – sign up will be available at the start of the first workshop and throughout the weekend.