We have a strong tradition of Morris and Rapper dancing at Shrewsbury and have proudly welcomed teams from home and abroad over the years.
They are a vital part of the event, bringing colour and an extra dimension to the festival, where they perform around the site and in the town centre. Beware where you decide to go for a refreshing drink as you never know which town centre hostelry the rapper sides will turn up in!
As well as the on-site procession, we have a parade through the town centre, taking dance to the people of Shrewsbury, on the Saturday afternoon, usually led by the Mayor of Shrewsbury. Shop assistants and people in the town usually get a few surprises!
Boggarts Breakfast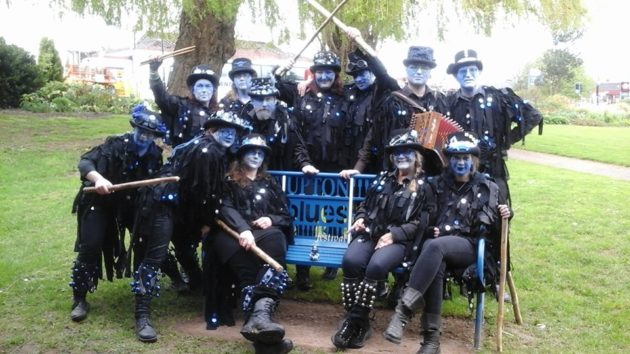 Forged in the hills surrounding Sheffield, Boggarts Breakfast are a Morris side with a twist. The dancing is based on the border tradition, but not shy of borrowing from other influences, welded together to create an original style. The tunes should be familiar to most but are tempered to produce a dark edge. The costumes are black bright with a little bit of blue, silver and a sparkle. So steel yourself for some excitement.
Hammersmith Morris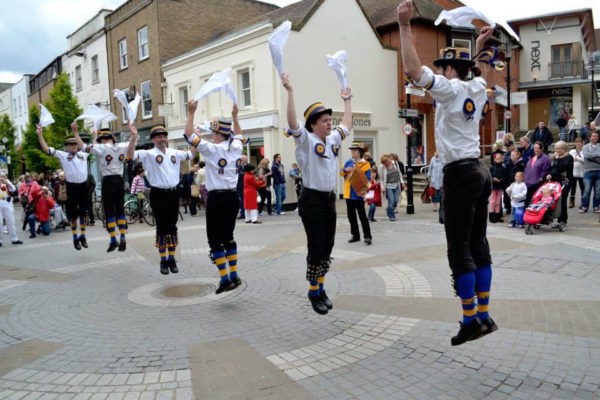 Kitted out in blue and gold and cutting a dash on the streets and off, Hammersmith Morris Men thrill and entertain audiences around the country. Known for their superlative music and energetic and engaging dancing and they will amaze and amuse. You may think you know what Morris dancing is about – for better or worse – but until you've seen this lot you probably don't.
Ironmen and Severn Gilders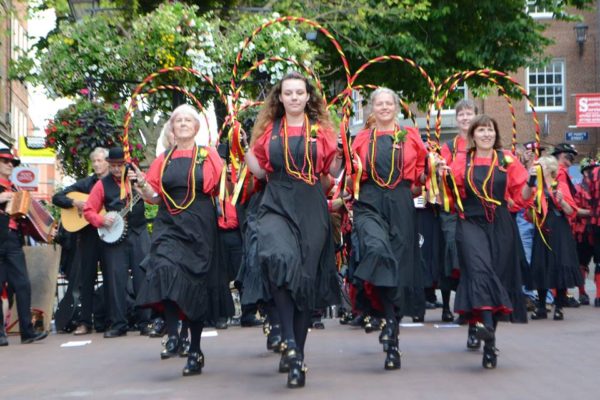 The Ironmen and Severn Gilders are two separate but closely associated teams based in the historic town of Ironbridge in Shropshire.
The Ironmen are a men's team who dance in the Welsh Border tradition, while the Severn Gilders are a women's team who dance North-West Morris.
Although they dance separately, they almost always appear together as many of the dancers from one team appear as musicians for the other.
Originally formed in 1976, they have danced at festivals all over the country and Europe. The team colours are black and red.
JD and Folk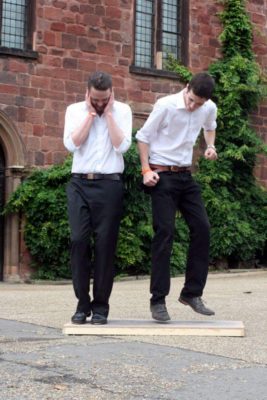 JD & Folk are a Jake, Dan and friends. Jake and Dan both learnt Appalachian dancing from Ira Bernstein and Sue Coe, particularly the improvised element of Appalachian flatfooting and have performed and taught this style to great reception from audiences around the country. When performing though their style takes on influences from clog, tap, French-Canadian and whatever their own imaginations throw up at the time. Over the past few years they have been lucky enough to build up a list of fantastic musicians and guest dancers allowing them to adapt to all situations thrown at them at festivals and to come up with fresh and fun ideas at short notice.
"Appalachian dancing's Chas & Dave"- Rich Arrowsmith
Kickin' Alice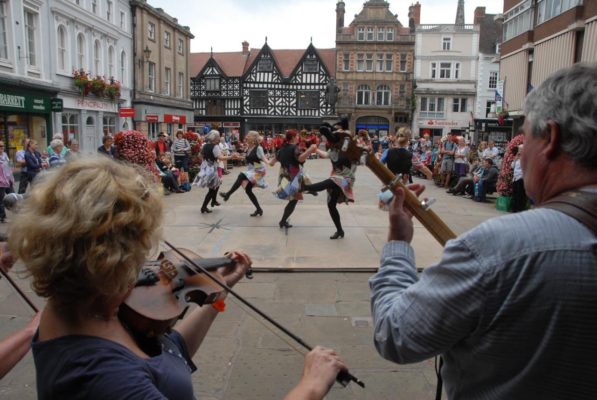 Kickin' Alice are a lively, entertaining group of Appalachian step dancers who perform with their band Kickophony. They provide a dynamic visual and sonic performance incorporating the percussive 'root' styles from the UK and Europe as well as the more modern American clogging styles.
Kickophony play upbeat Old Time, Bluegrass and Folk music, and also perform at concerts without the dancers. With performers from Staffordshire, Shropshire, Herefordshire and the West Midlands, Kickin' Alice perform all over the UK at a variety of venues, from dance, music and street festivals, to fetes, weddings and parties.
Mortimer's Morris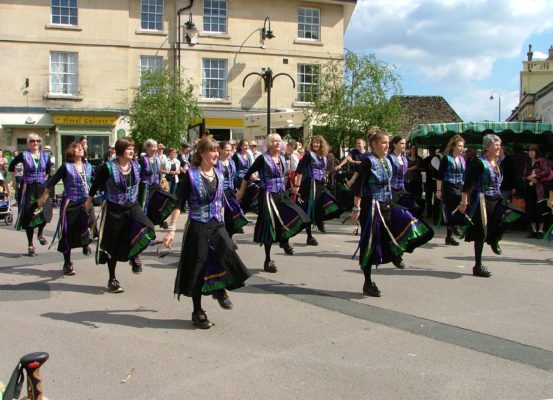 Mortimer's Morris is a lively women's side based in Nottingham. They perform dances from the North West tradition with enthusiasm and style. Their kit often receives as much limelight as the dancing – black skirts with colourful inserts and ribbon appliqué waistcoats give a striking appearance.
Mortimer's band contributes a unique sound with hurdy-gurdy, accordion, melodeon, concertina, fiddle, whistles, pipes and bouzouki. Many of the tunes have a distinctive French flavour, adding to the Mortimer's experience.
Pig Dyke Molly

Pig Dyke Molly comes from where Molly dancing came from and has taken its local tradition by the scruff of its neck, shaken it a bit and hopes to entertain Shrewsbury audiences with fast and vigorous Molly, presented in GLORIOUS black  and white. 
We hope you will be intrigued, laugh a bit, learn about Victorian velcro, the moral turpitude characteristic of the Fens, the plughole which drained them,  and marvel at the Pole dance, traditional in our area since 2004. 
Ryburn Longsword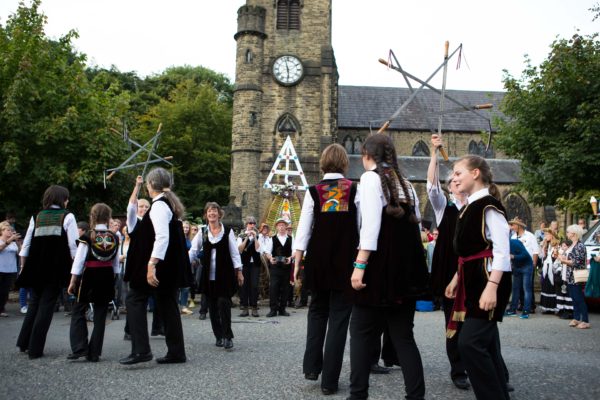 Ryburn Longsword have been dancing together since 1994. Some of their dances are traditional and come from villages across Yorkshire, others have been created by members of the group. Most of the members live in the Ryburn Valley near Halifax in West Yorkshire. They can usually be seen dancing at local events such as Todmorden Folk Festival, Sowerby Bridge Rushbearing and last year also performed at Chester Festival and in Brittany.
The dancers wear a velvet costume with applique panels showing scenes or animals from the Ryburn Valley. The beautiful colours of the velvet and satins combine to dramatic effect during the twists and turns of the dances, especially in sunlight.
Severn Sisters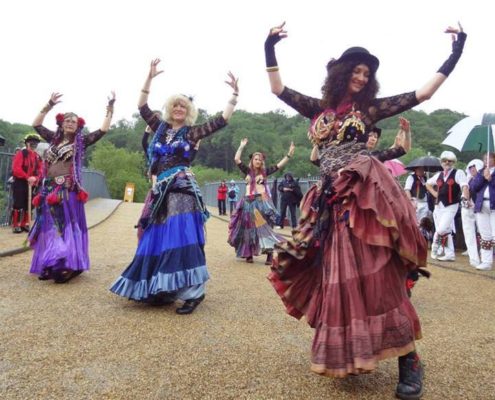 Severn Sisters Tribal are based in the Ironbridge Gorge in Shropshire and perform tribal group bellydance, a combination of many folkloric dance styles, taking movements from Middle Eastern dance and combining them with dance styles from across the world, including influences from Flamenco and Romany dance.
They learn a common vocabulary of movement, and through subtle physical and verbal cueing (and lots of practice ) create a largely Improvised and exciting performance that appears choreographed to the audience. No two performances can ever be the same and different group members take the lead as they dance and throw in their favourite moves to keep them all on their toes!
Shrewsbury Morris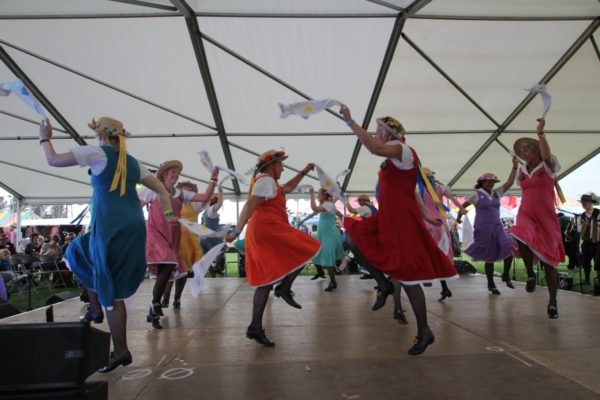 The Shrewsbury Bull & Pump Morris Men, The Shrewsbury Lasses and the Shrewsbury Cloggers make up Shrewsbury Morris.
They have spent over forty years proudly entertaining audiences in and around their home town of Shrewsbury. They are easily recognisable by the Lasses colourful dresses and the men's green waistcoats and brown breeches.
They dance with style and gusto (watch out for garters and the sticks!) and love to entertain and engage their audiences.
Their repertoire is drawn from a variety of sources and much is also their own original dances. Shrewsbury Morris just love to dance to and play in their own big band.
Shropshire Bedlams and Martha Rhoden's Tuppenny Dish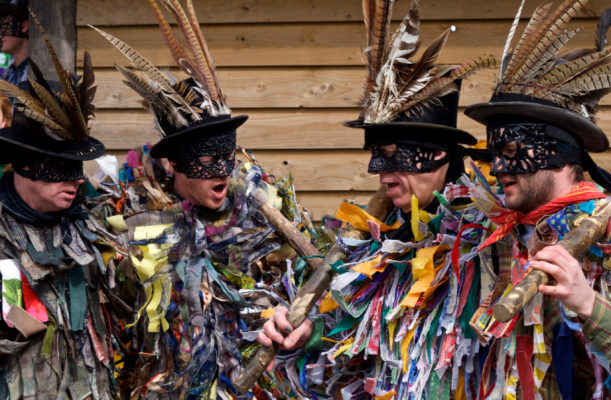 When these two teams from Shropshire burst onto the morris dancing world in the mid 1970s, nobody knew what had hit them. They were the first to go round together as companion teams of men and women and the first to concentrate exclusively on the previously neglected dances from Shropshire, Herefordshire and Worcestershire – Border Morris. Both sides present radical and revolutionary interpretations of the original dances, along with a large dollop of repertoire specially concocted by team members.
These days you can see teams inspired by the Bedlams throughout the morris world, whereas only the most discerning have followed the lead of Martha Rhoden's. Now in their 42nd year they continue to put on a show full of sparkling originality and vitality.
Shropshire Sharpshins Rapper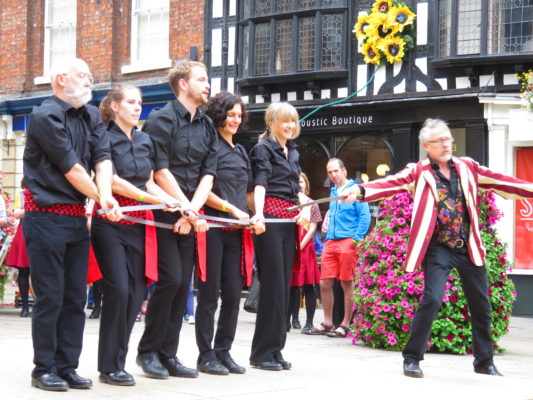 "I am of Shropshire, my shinnes be sharp".
We are Shropshire Sharpshins Rapper – the only rapper sword dance side in the county! Look out for our quick feet, sharp wit, and chequered sashes as we move swiftly through our county town, performing fast paced, intricate and, at times, acrobatic dances. May our shins be ever sharp!
Stone Monkey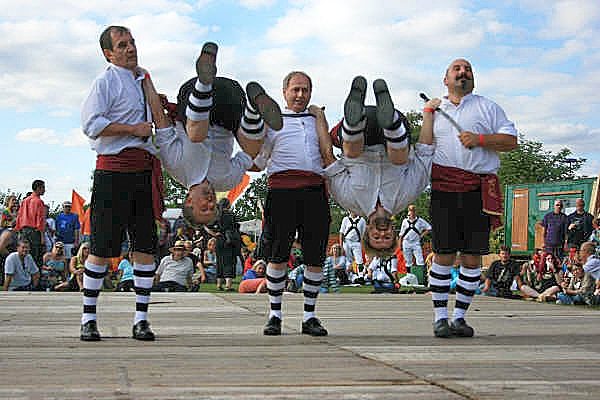 'Stone Monkey' … in ancient times a grope of itinerant expatriate miners and organ grinder's mates were lost in the wilds of the Erewash basin.  Desperate for real culture, they quested until… Huzzah! Grate northern sword dancing in all its forms was the result.
A chance find of crackling musicians and a few putative blade learners led to a top team. Just mix with the sexy sox and watch'em go.'
Three Spires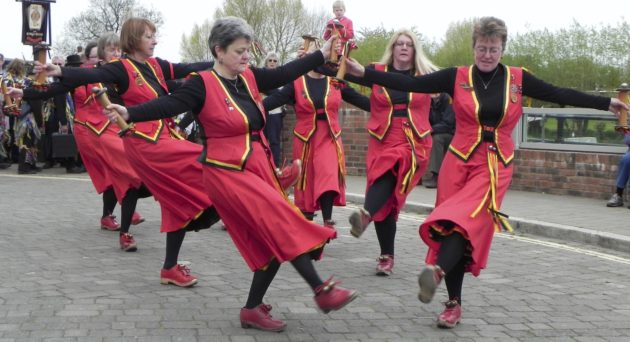 Three Spires Morris is a women's North-West Morris side from Lichfield in Staffordshire.  The side is 35 years old this year and takes its name from Lichfield's three-spired Cathedral. We dance mostly in the North West tradition, using sticks, garlands, bobbins and slings.
Our repertoire includes both traditional dances and those we have written ourselves, and we celebrate our local heritage with figures such as the Lichfield Hey and the Staffordshire Knot.  We are known for our high ranting steps and enthusiasm and also for our talented band.
Toby Bennett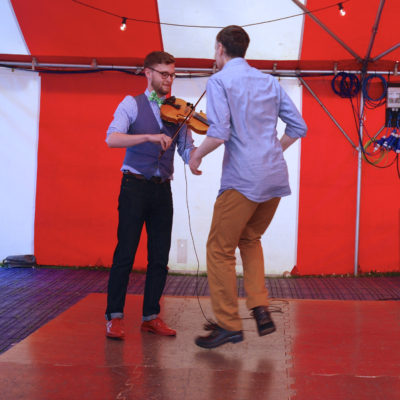 Spectacular, high energy English step clog from champion Lakeland step dancer Toby Bennett. Toby is performing at Shrewsbury with one of his regular collaborators the inimitable Lakeland fiddle player Scott Hartley, so expect some old and new steps and tunes from this colourful clog and fiddle duo.
Toby also performs with folk band Stepling (this year at Shepley, Broadstairs, Whitby, and London folk festivals – stepling.org.uk) and with the new trio Francis|Bennett|Hartley specialising in Cumbrian traditions of music, step dance and song