What can we say about Pandemonium! our children's festival?
From its hub just off the main area, the kid's zone is close to the Purity Village Stage and perfectly positioned for parents and children to have fun together, safely tucked away in an dedicated area of the site, but close enough to the action for it to be a real part of the event. We also have our Wee Folkies area which has a baby changing and feeding area, as well as a whole programme of activities for the under fives.
After a year that many of us would like to forget Pandemonium! is back with a programme to bring joy, excitement and glitter (eco of course) to support our children's wellbeing.
We won't be holding our legendary lantern procession this year so we are very excited to welcome The Rig to Pandemonium! for the first time. The Rig is an installation of curiosities, a musical playground for all the family combining percussion, musical exploration, creativity and adventure. Built from up-cycled objects turned into instruments and sound experiments, kids can really get creative. Ever used a suitcase bass drum or magic oven tray headphones? No? Then come have a go! The Rig will be open from 3pm-5pm Friday, 11am-4pm Saturday and Sunday, 10am-12 midday Monday. No need to book, just turn up and play.
The Mobile Story Emporium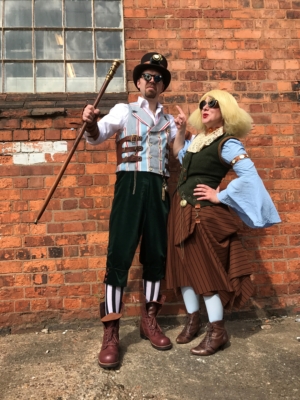 Highly Sprung are coming back with a brand-new walk-about adventure.
Two intrepid adventuring story archivists 'The Mobile Story Emporium' have arrived in Shrewsbury for the first time, bursting to fill your imaginations and minds with the stories they have collected on their travels around the world and beyond.
The pair appear as a living and walking cabinet of curiosities and can't wait to entertain you with tales of dreams and daring using objects pulled from their closet of questions, containing a collection of stories, objects and mysterious items, lost and found from around the globe.
The Mobile Story Emporium will be popping up throughout the day in the Pandemonium area
On Saturday Kabantu will perform a special Round-the-World concert for the children with a huge range of instruments.
If that isn't enough Sal Tonge is bringing her silent disco, complete with serious dance moves, to get you up and active. Sal's Silent Disco is a walking Happiness Factory! We make smiles from wiggles, and strut our best moves on a 30 minute experience which weaves around the site. Dancing together, socially distanced and wearing headphones which are provided – feeling funky and lost in music!
Crafts, dens, games
&

more
Instead of our usual Pandemonium tent we will have an outdoor family village with crafts and fun for all the family. Activities will be run in family groups this year to keep you all as safe as possible, but we promise this won't get in the way of fun and excitement. See the board for times of the craft activities every day, with a different activity in the morning and afternoon – there really is no reason to be bored at Shrewsbury Folk Festival.
Roll up for the daily treasure hunt. Grab your clues and away you go, searching the site, with your family. Can you find the Braille letters? Can you crack the rune code? Can you uncover the fairytales? Collect your clues on time and then carry out the hunt at your leisure.
There will be den building and outside games available throughout the festival weekend, to just pick up and play and of course, Professor Panic and his team will be there to help you hone your circus skills throughout the weekend!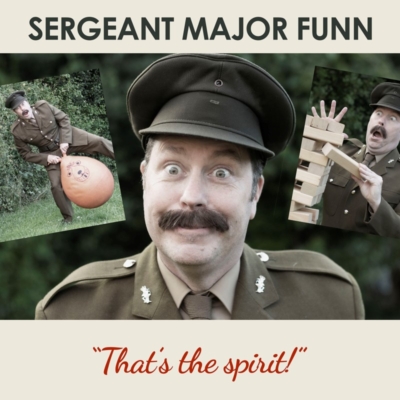 In the unlikeliest twist of fate, Sergeant Major Funn has been plucked from his regular role (keeping order and discipline within the ranks) and has been drafted in to assist with children's games in the Pandemonium area.
His mission is to make sure you have a jolly good time playing by the rules, doing your best for Queen and country and defeating the opposition!
Endlessly encouraging, enthusiastic and excitable, Major Funn will keep moral high and the laughs flowing!
So the youngest festival goers aren't left out, we have a brand-new Wee Folkies bell tent to get comfy in, and enjoy sensory activities. Parents are also welcome to feed their babies here or anywhere they are comfortable, and even lie them down for a nap. There will be a story time for little ones on the hour every two hours throughout the day, and fun activities in between.