Shrewsbury Folk Festival – looking after where we love to be!
Making Shrewsbury Folk Festival more sustainable is a key priority for us – join us in our quest to reduce waste to landfill and look after where we love to be.
With your help, we recycle the majority of the plastic, cans, glass, cardboard, paper as well as food waste generated at the festival.
This year we hope to build on our success to achieve even better separation and to send even less waste to landfill from the festival. There will be front of house bin sets for everyone to use in the arenas as well as in the campsites. So when you are wandering around the festival, look out for the bins that look like this: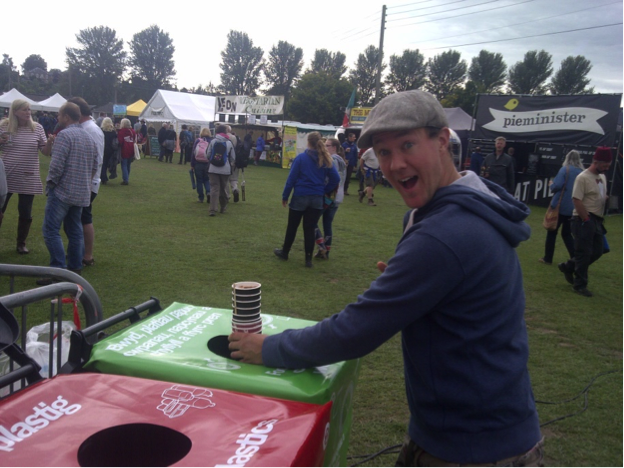 And at your camp – think ahead and keep your recycling separate from your rubbish. Maybe bring your own recycling box with you or use one of the ZWE green sacks to carry your recycling to the bin points.
There will be bins for the following materials in the festival areas and the campsites:
Plastic
Cans
Glass
Food, plates, napkins, wooden cutlery
Non-recyclable stuff like crisp packets, nappies etc
Cardboard
There will be a paper recycling point at the festival shop and the stewards office.
If you are bringing a dog with you, please bring bags and use the dog poo bin near gate 2 rather than the recycling bins – thank you!!
The ZWE HQ for the festival will be next to the river in the livestock sheds – if you have any questions, please pop over to have a chat. And if you're camping nearby, bring us your rubbish and recycling!