We are honoured to have John Jones (Oysterband) and Steve Knightley (Show of Hands) as our festival patrons.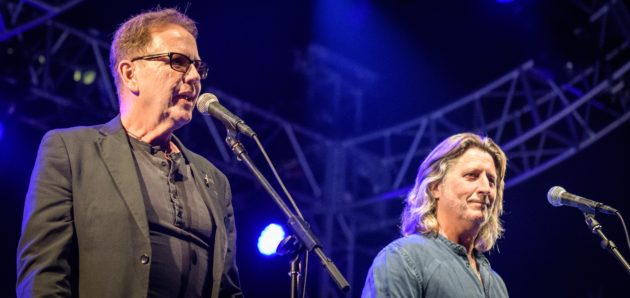 Read their thoughts on the 2018 festival:
After the sunshine and spectacular success of last year , mixed of course with the added poignancy of Alan's passing, the legacy continues and Sandra and the team have come up with a very strong line-up for this year.
As my co-patron often says, so many artists want to play Shrewsbury as it gives them the opportunity to deliver on great stages to enthusiastic audiences. Steve is there with the mighty Show of Hands, Usher's Island looks like a fabulous combination of some of the greats of Irish music, Richard Thompson will be rocking out with the Trio and Steeleye with the incomparable Maddy Prior.
And there is always that magic moment on a side-stage where you hear and see something, someone, for the first time that simply blows you away.
I will be there later in the weekend to enjoy the music and savour the atmosphere of this wonderful site and raise a glass or two with friends and maybe grab a chat with an artist I have long-admired but rarely get the chance to talk to….and, hopefully, the sun will shine. Meet You There.  JJ
With winter turning to spring our thoughts and plans inevitably turn to the summer ahead and the many fantastic music festivals to on offer. Obviously, as Patron, I'm a touch biased but, for me, the one 'not to be missed' event is Shrewsbury.
The site, the production values, the venues, and easy access camping alone make it stand out. Then add the music, the river, the beautiful medieval city, and the distant rolling hills and you have a location and festival to compare with any in the world.
And, of course, it's always a joy to discover new artists and watch real craftsmen and woman at work. However, last year my personal highlight was belting out a drunken version 'Honky Tonk Women' round a battered old piano in the early hours in the infamous Berwick Pavillon long bar whilst watching our festival director trying to dance on a rickety old chair!
Something for everyone? You bet there is, see you there!
NB: Watch Steve's version of Honky Tonk Women here.