The Shropshire Youth Folk Ensemble (SYFE) is under the musical directorship of Ray Langton Music.
There are currently 12 members aged between 10 and 17-years-old. There is a wide range of musical ability from Grade 2 through to Grade 8 with a mix of instruments including: violins, flutes, guitars, cello, double bass, saxophone and djembe.
An SYFE website has been established with a dedicated members area giving everyone access to all music and sound bites. This has proved immensely valuable in enabling the members to practice and be ready for performance.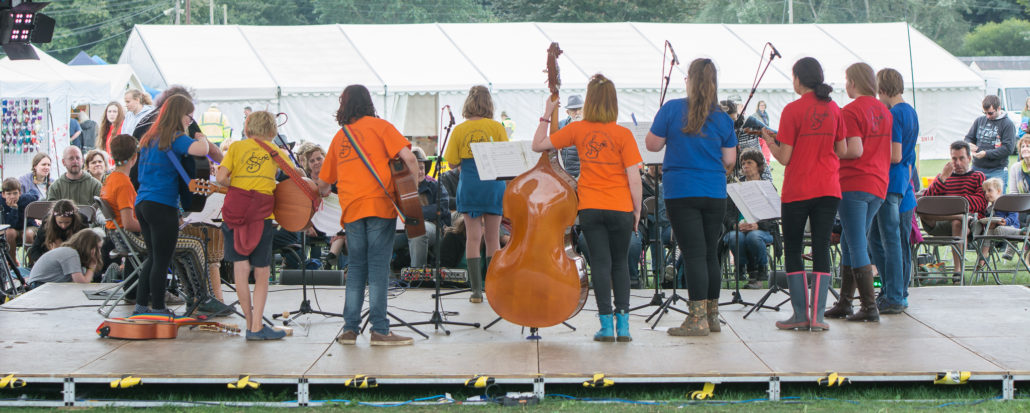 The ensemble's first performance in 2017 was at Theatre Severn in Shrewsbury in July. This was a 20-minute performance set as part of the Shropshire Music Service Summer Gala Concert series. The second performance was on the Village Stage at Shrewsbury Folk Festival with a 45 minute set.
For each performance the programme includes a mix of traditional and recently written tunes and songs. Repertoire has been drawn from across England, Scotland and Wales and includes dance tunes, marches, jigs and sea shanties. As well as learning the pieces the ensemble has also worked on arrangements and thought about presentation and playing style.
They have also taken part in a workshop with percussionist Jo May (April 2018)  and performed at the Music for Youth Regional Festival in March where they impressed the judges and received extremely positive and very fair comments.
2018 performances have included Shrewsbury Food Festival, Shropshire Music Service Gala Concert, Beat & Bells 2018 and Shrewsbury Folk Festival.
And they are already booked to attend the English Folk Dance and Song Society's Take Over event at Cecil Sharp House in London in 2019. This will be a very exciting opportunity to play at the home of English folk.
A feast of Shropshire music with John Kirkpatrick
The Shropshire Youth Folk Ensemble performed with John Kirkpatrick at a special show in Shrewsbury, performing music from our Shropshire Tune Archive that John found and researched as part of our previous All Together Now programme: