Morris and dance performances have been a key part of Shrewsbury Folk Festival since the beginning, creating an amazing atmosphere with sound, colour and movement!
Every year we invite a few of our local sides and other teams from across the country to join us and perform around the festival and in Shrewsbury. Watch them perform or learn a few moves yourself in one of our workshops.
2022 Morris
&

dance sides
Berkshire Bedlam
B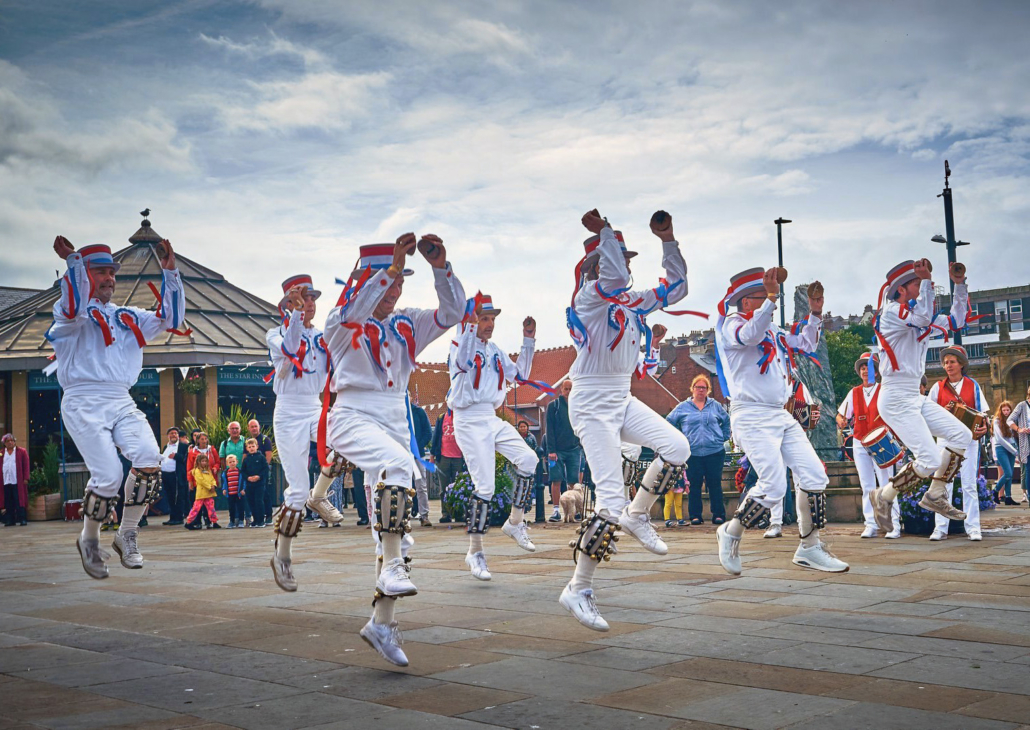 erkshire Bedlam have been entertaining audiences for more than 40 years with their own unique approach to Cotswold Morris, featuring high energy dances performed not only with enthusiasm, gusto, precision, and great musical accompaniment, but also with a strong awareness of what will interest and appeal to those watching.
They feature a wide array of dances, including bewildering flying stick routines, and their legendary Coconut dance, performed, they say, with coconut shells gathered from the foothills of the Cotswolds. Can that be true? Come and see for yourselves!
Chiltern Hundreds Clog Morris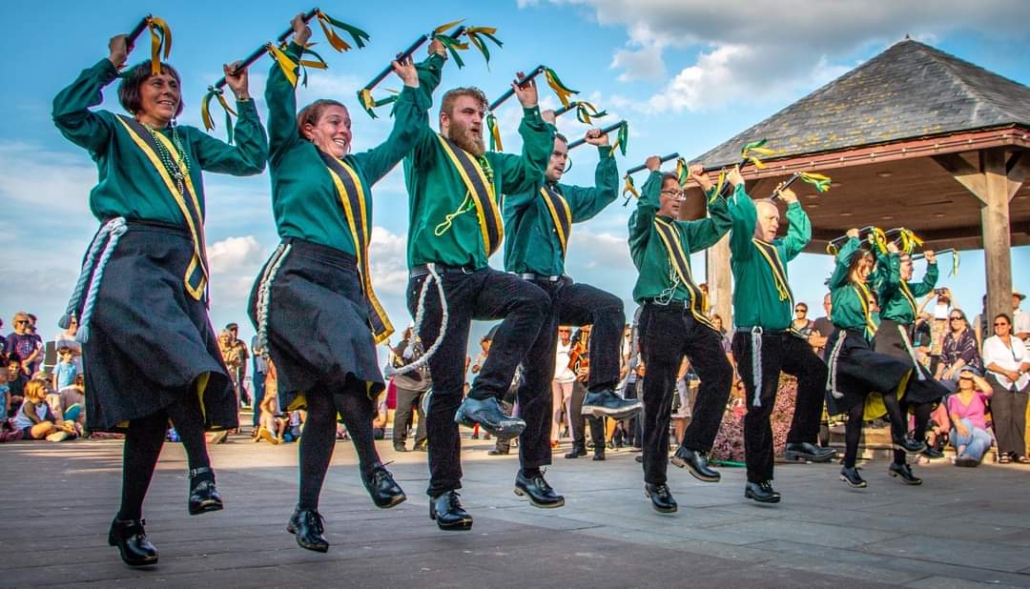 Based in Bushey near Watford, Chiltern Hundreds dance high-energy, engrossing dances from the industrial North West of England.
A large feature of the side's performance is the band's powerful music, you can often hear the sound of melodeons, drums and clogs before you can see the dazzling gold of the dancers' sashes! This year the side are celebrating their 30th anniversary.
Earlsdon Morris Men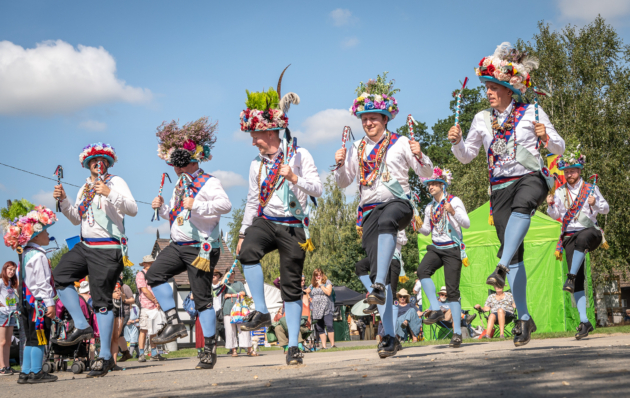 Earlsdon Morris Men is a North West clog side that formed in Coventry in 1971. Most of their dances are traditional, originating from the counties of Lancashire and Cheshire in England, but they have created a number of their own dances in the traditional style. They're are a sociable bunch who like to dance, sing, travel and be merry. More: www.earlsdonmorrismen.org.uk
Ironmen and Severn Gilders
The Ironmen and Severn Gilders are separate but closely associated teams based in the historic town of Ironbridge in Shropshire. The Ironmen are a men's team who clash their sticks in lively Welsh Border Morris Style. The Severn Gilders, named after the painters of local Coalport china, step out the patterns of North West Morris.
Although they dance separately they almost always appear together with many of the dancers from one team performing as musicians for the other. Formed in 1976, they perform both locally and around the UK.
JD & Folk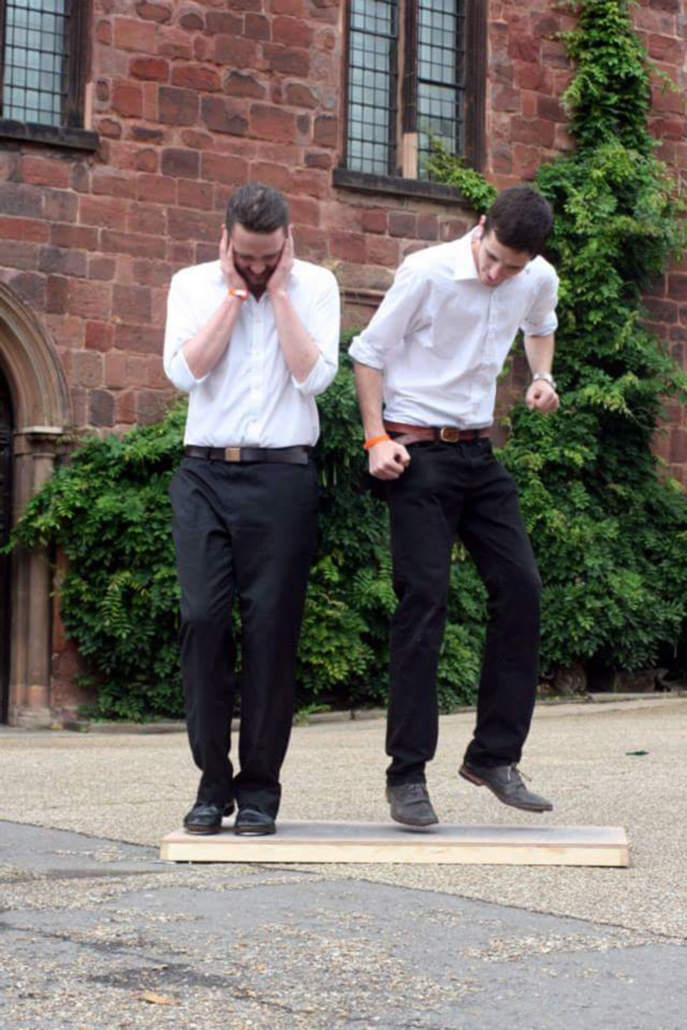 JD & Folk are aJake, Dan and friends. Jake and Dan both learnt Appalachian dancing from Ira Bernstein and Sue Coe, particularly the improvised element of Appalachian flatfooting and have performed and taught this style to great reception from audiences around the country.
When performing though, their style takes on influences from clog, tap, French-Canadian and whatever their own imaginations throw up at the time.
Over the past few years they have been lucky enough to build up a list of fantastic musicians and guest dancers allowing them to adapt to all situations thrown at them at festivals and to come up with fresh and fun ideas at short notice.
"Appalachian dancing's Chas & Dave"- Rich Arrowsmith
Sallyport Sword Dancers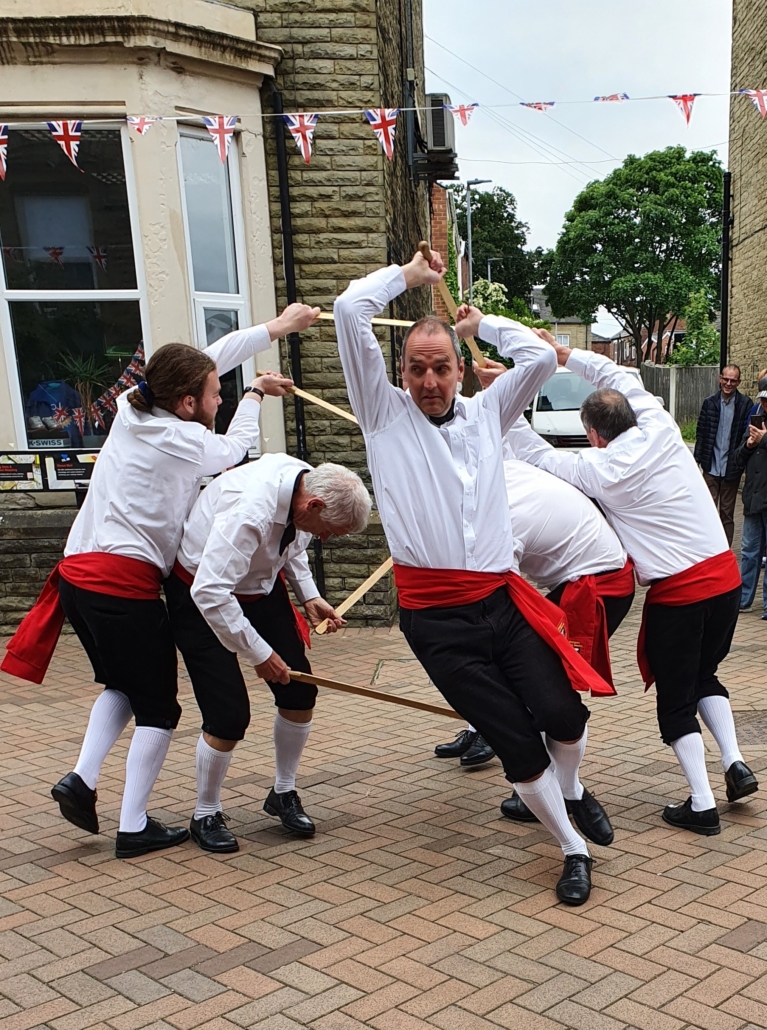 Rooted in the history of the North-East's traditional dance, Sallyport are named after a tower on Newcastle's city walls but are based just across the Tyne in the old mining village of Swalwell, near Gateshead.
Here, in 1910, folk tradition collector Cecil Sharp saw his first 'rapper' dance and the team still perform the dance he wrote down that day, along with others from villages across the Northumberland and Durham coalfield.
In line with these traditions, they have more than a passing interest in public houses, where you are likely to see them performing during the weekend. Buy them a beer and they'll share some amazing stories about rapper sword dances, some of which may even be true!
Seven Champions Molly Dancers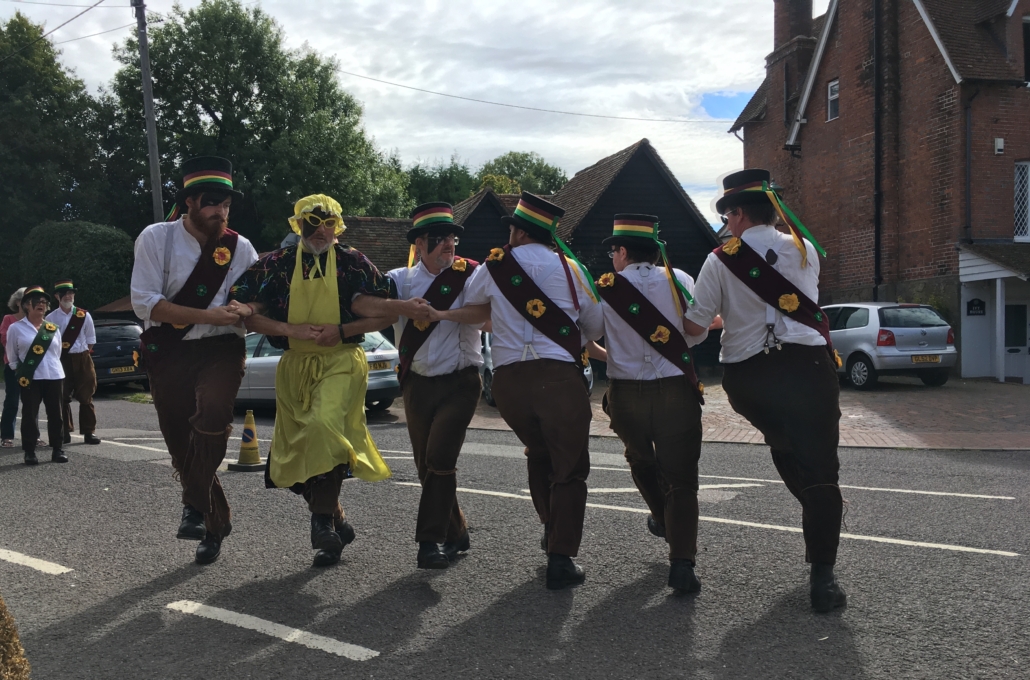 High stepping and precise with an innately british daftness, the Seven Champs have been favourites at folk festivals across the UK almost since their creation. As one of the driving forces behind the Molly revival, they are a must watch – they emerge from their treacle mines in deepest darkest Kent only infrequently. When you see them, try to make one crack a smile while they're performing and watch out for treacle rats…
" I think the Seven Champions Molly Dancers are fantastic. So different, what they do. When they started, it was so different, so powerful. They've still got the energy, and the precision, and that sort of madness. They're absolutely superb." – John Kirkpatrick.
Shropshire Bedlams and Martha Rhoden's Tuppenny Dish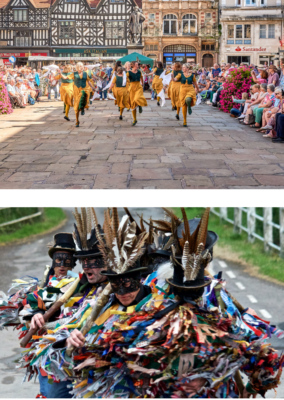 When these two teams from Shropshire burst onto the morris dancing world in the mid 1970s, nobody knew what had hit them.
They were  the first to go round together as companion teams of men and women and the first to concentrate exclusively on the previously neglected dances from Shropshire, Herefordshire and Worcestershire – Border Morris.
Both sides present radical and revolutionary interpretations of the original dances, along with a large dollop of repertoire specially concocted by team members. These days you can see teams inspired by the Bedlams throughout the morris world, whereas only the most discerning have followed the lead of Martha Rhoden's.
Now in their 42nd year theycontinue to put on a show full of sparkling originality and vitality.
Shropshire Sharpshins Rapper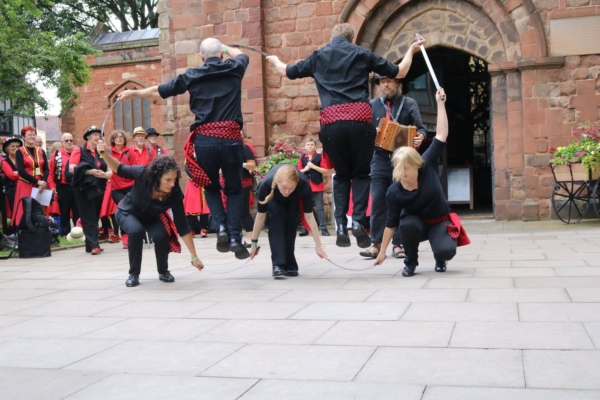 "I am of Shropshire, my shinnes be sharp."
They are Shropshire Sharpshins Rapper – the best rapper sword side in the county! Look out for their quick feet, sharp wit, and chequered sashes as they move swiftly through their county town, performing fast paced, intricate, and acrobatic dances. May their shins be ever sharp!
Sussex Junction Morris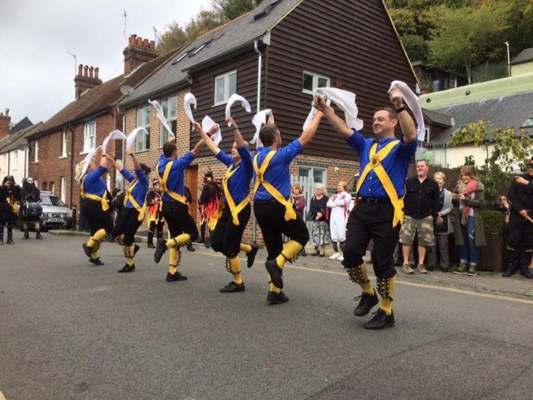 Sussex Junction Morris are an energetic mixed morris side who travel across the country to perform at festivals and weekend of dances.
They dance the Bucknell and Sherborne traditions with their own twist, while also performing local traditions, Lewes and RX tradition from Hastings.
Sutton Masque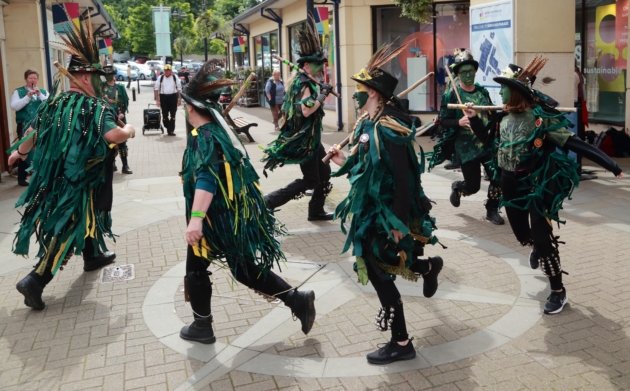 A mixed border side hailing from Sutton in the southern reaches of the Cambridgeshire fens. They are an explosive and vibrant side recognisable by their green man inspired kit. They pride themselves on being an all inclusive side with a passion for dancing, fun and friendship. They have been very fortunate to dance at festivals all over the UK and are very excited for their first visit to Shrewsbury. They're a sociable bunch so do come and say hello !
The Purity Village Stage
09:45-11:15 Chiltern Hundreds Clog Morris, Sutton Masque, Sallyport Sword Dancers, The Ironmen and Severn Gilders, Seven Champions Molly Dancers, JD & Folk
16:00-17:30 Berkshire Bedlam, Seven Champions Molly Dancers, Sussex Junction, The Ironmen and Severn Gilders
The Square (town centre)
11:15 – 12:00 Chiltern Hundreds Clog Morris, Sutton Masque, Shropshire Sharpshins Rapper
12:15 – 13:00 Shropshire Bedlams and Martha Rhoden's Tuppenny Dish, Sutton Masque
13:30 – 14:15 Massed Stand Chiltern Hundreds Clog Morris, Berkshire Bedlam, Shropshire Sharpshins Rapper, Sutton Masque, Shropshire Bedlams and Martha Rhoden's Tuppenny Dish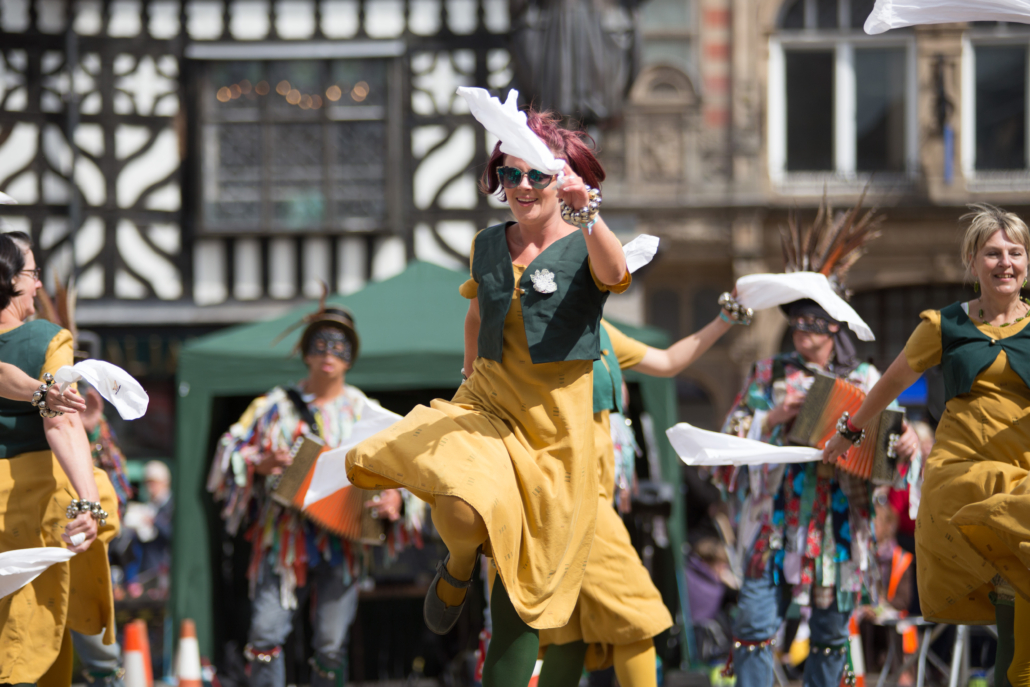 St. Mary's Church (town centre)
11:15 – 12:00 Shropshire Bedlams and Martha Rhoden's Tuppenny Dish, Berkshire Bedlam
12:15 – 13:00 Berkshire Bedlam, Chiltern Hundreds Clog Morris, Shropshire Sharpshins Rapper
The Salopian Berwick Bar
12:00 – 13:00 Sussex Junction, The Ironmen and Severn Gilders, Sallyport Sword Dancers, JD & Folk
15:30 – 16:30 Shropshire Bedlams and Martha Rhoden's Tuppenny Dish, Sallyport Sword Dancers, Sutton Masque, JD & Folk
The Morris Spot
14:00 – 15:00  Berkshire Bedlam, Seven Champions Molly Dancers, Sussex Junction, The Ironmen and Severn Gilders
Dance Tent
21:30-21:50 Ceilidh Spot: Chiltern Hundreds Clog Morris and Sussex Junction
The Purity Village Stage
09:45 – 11:15 Shropshire Sharpshins Rapper, Seven Champions Molly Dancers, Sussex Junction, Sutton Masque, Shropshire Bedlams and Martha Rhoden's Tuppenny Dish, Chiltern Hundreds Clog Morris, Sallyport Sword Dancers
16:00 – 16:45 Seven Champions Molly Dancers, JD & Folk, Sutton Masque, Shropshire Sharpshins Rapper, Sallyport Sword Dancers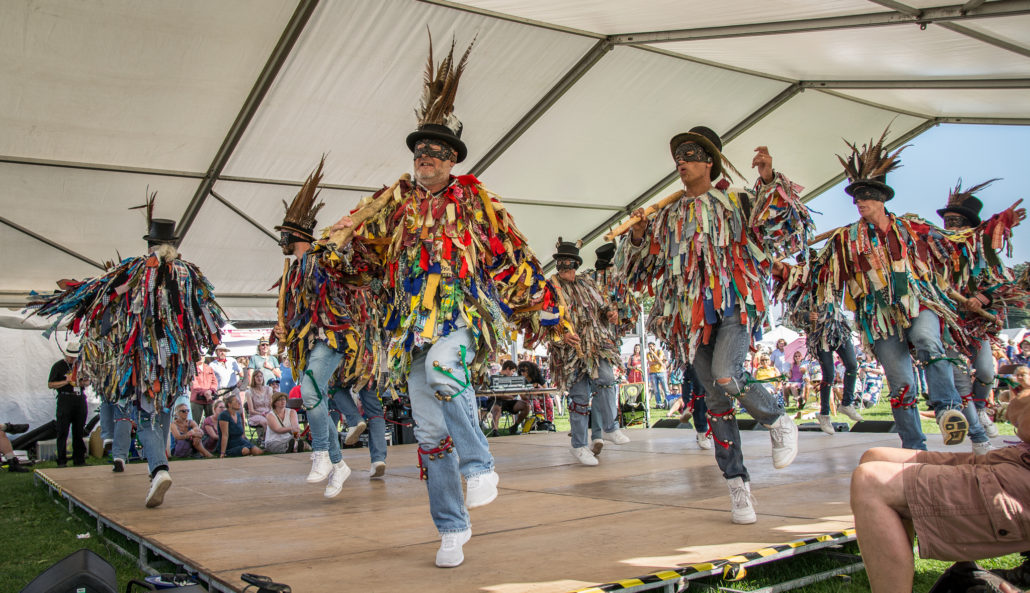 The Square
11:15 – 12:00 Seven Champions Molly Dancers, Sussex Junction, JD & Folk
12:15 – 13:00 The Ironmen and Severn Gilders, Sussex Junction
13:30 – 14:15 Massed Stand Seven Champions Molly Dancers, JD & Folk, Sussex Junction, The Ironmen and Severn Gilders Shropshire Sharpshins Rapper
Pride Hill (town centre)
11:15 – 12:00 The Ironmen and Severn Gilders, Shropshire Sharpshins Rapper
12:15 – 13:00 Seven Champions Molly Dancers, JD & Folk, Shropshire Sharpshins Rapper
The Salopian Berwick Bar
12:00 – 13:00 Shropshire Bedlams and Martha Rhoden's Tuppenny Dish, Sallyport Sword Dancers, Berkshire Bedlam, Sutton Masque
15:30 – 16:30 Sussex Junction, Chiltern Hundreds Clog Morris, Berkshire Bedlam, Shropshire Bedlams and Martha Rhoden's Tuppenny Dish
The Morris Spot
14:00 – 15:00 Berkshire Bedlam, Shropshire Bedlams and Martha Rhoden's Tuppenny Dish, Chiltern Hundreds Clog Morris, Sallyport Sword Dancers, Sutton Masque
Morris Procession
17:00 – 17:30 All teams to process from The Salopian Berwick Bar to the Dance tent ready for Morris party
Dance Tent
17:30 – 18:45 Morris Party
21:30-21:50 Ceilidh Spot: Berkshire Bedlam, Seven Champions Molly Dancers
SATURDAY
09:45 – 11:00 Dance Tent
Cotswold Morris with Sussex Junction
11:20 – 12:45 Purity Village Stage
Molly Dancing with Seven Champions Molly Dancers
SUNDAY
09:45 – 11:00  Dance Tent
The Bo Diddlers
13:00 – 14:15 Dance Tent 
Black Umfolosi
MONDAY
09:45 – 11:00 Dance Tent
Sword dancing with Sallyport Sword Dancers
Performance by JD & Folk and Berkshire Bedlam in FRIDAY night's ceilidh in the dance tent at 21:30-21:50
The rapper teams will be dancing in the town centre pubs on the legendary SATURDAY night rapper tour from 17:00
Procession of morris teams from the Salopian Berwick Bar to the Dance Tent on SUNDAY at 17:00 leading to the morris party
There will be a massed stand of all dance teams on the Purity Village Stage on MONDAY 10:30-12:00