We have a strong tradition of Morris and Rapper dancing at Shrewsbury and have proudly welcomed teams from home and abroad over the years.
They are a vital part of the event, bringing colour and an extra dimension to the festival, where they perform around the site and in the town centre. Beware where you decide to go for a refreshing drink as you never know which town centre hostelry the rapper sides will turn up in!
As well as the on-site procession, we have a parade through the town centre, taking dance to the people of Shrewsbury, on the Saturday afternoon, usually led by the Mayor of Shrewsbury. Shop assistants and people in the town usually get a few surprises!
The 2019 morris
&

dance sides were:
Bower Street Morris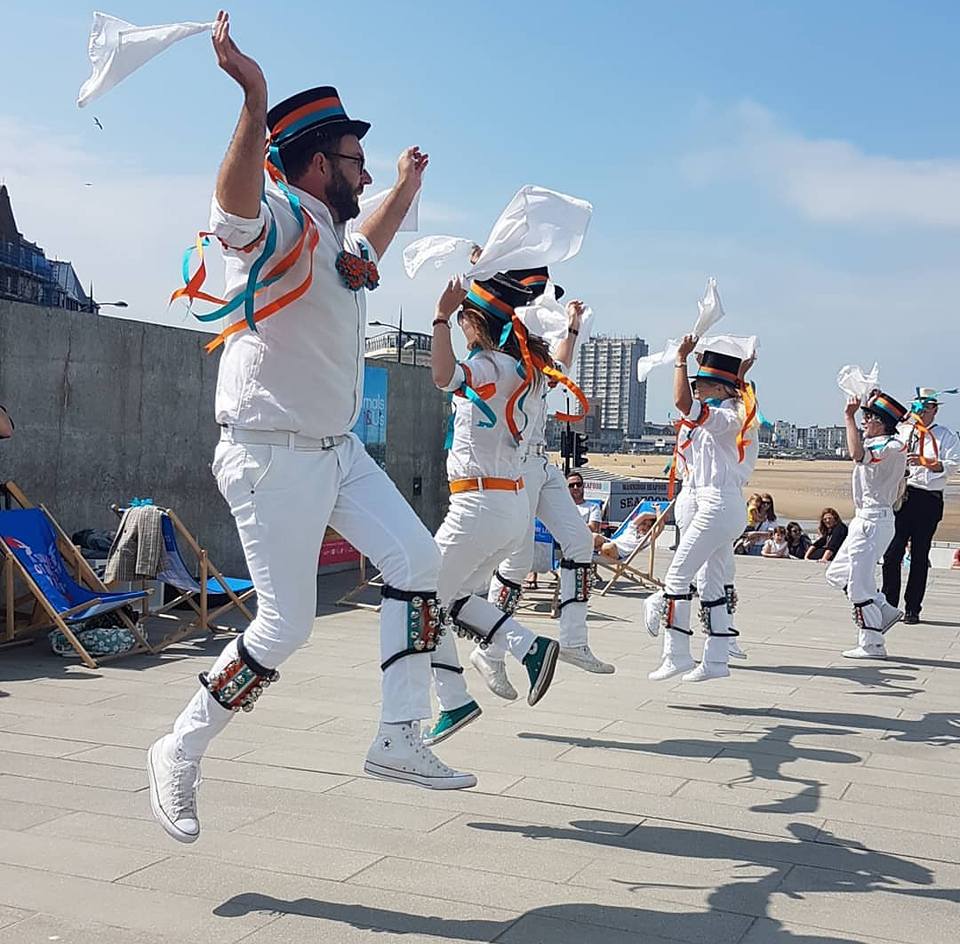 Tell me grandfather, did you see Bower Street dance at Shrewsbury Folk Festival in 2019?"
"That's an oddly specific question child, but no I didn't. I was too busy learning to play the ocarina."
"I hate you and your stupid ocarina, I'm leaving to join the circus."
Bower Street are named for the road parallel to where they practice and this rather vague approach to life extends to their team colours (teal and orange because "they look nice together in films") but not to their dancing which is based on collected notes for Bledington in Gloucestershire and is anything but vague. They can usually be found in Kent or on Twitter bickering with other teams.
Clerical Error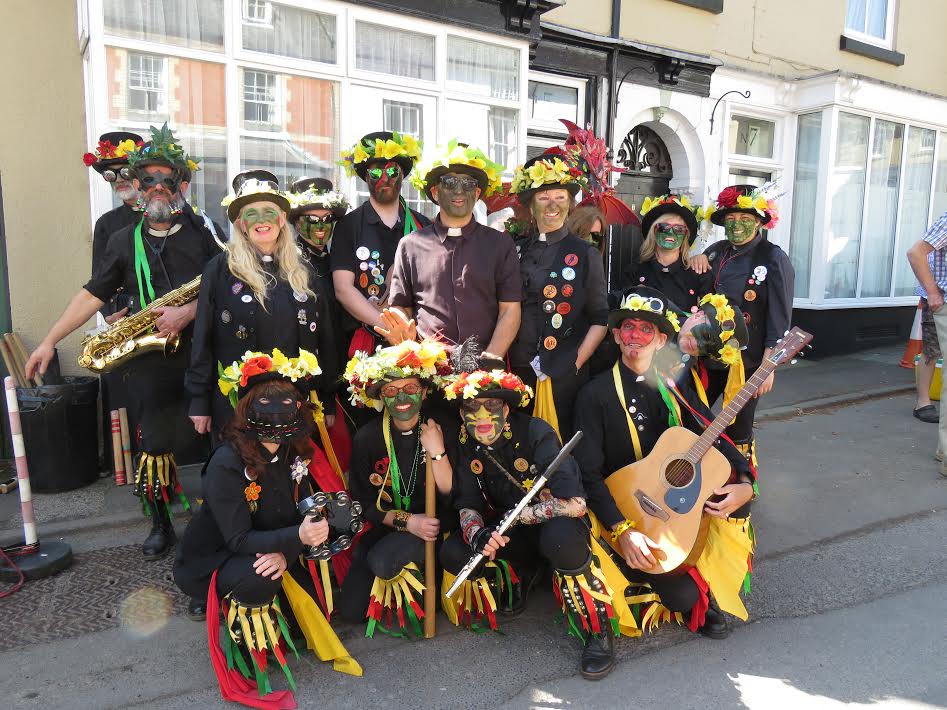 Clerical Error are Border Morris dancers with attitude. They are from North Wales and have been performing for 28 years.
Clerical Error dance traditional and new dances, in their distinctive kit of black with top hat decorated with daffodils, with ribbons of green, red and gold.  "We're looking forward to performing at Shrewsbury Folk Festival for the first time," they said!
Great Western Morris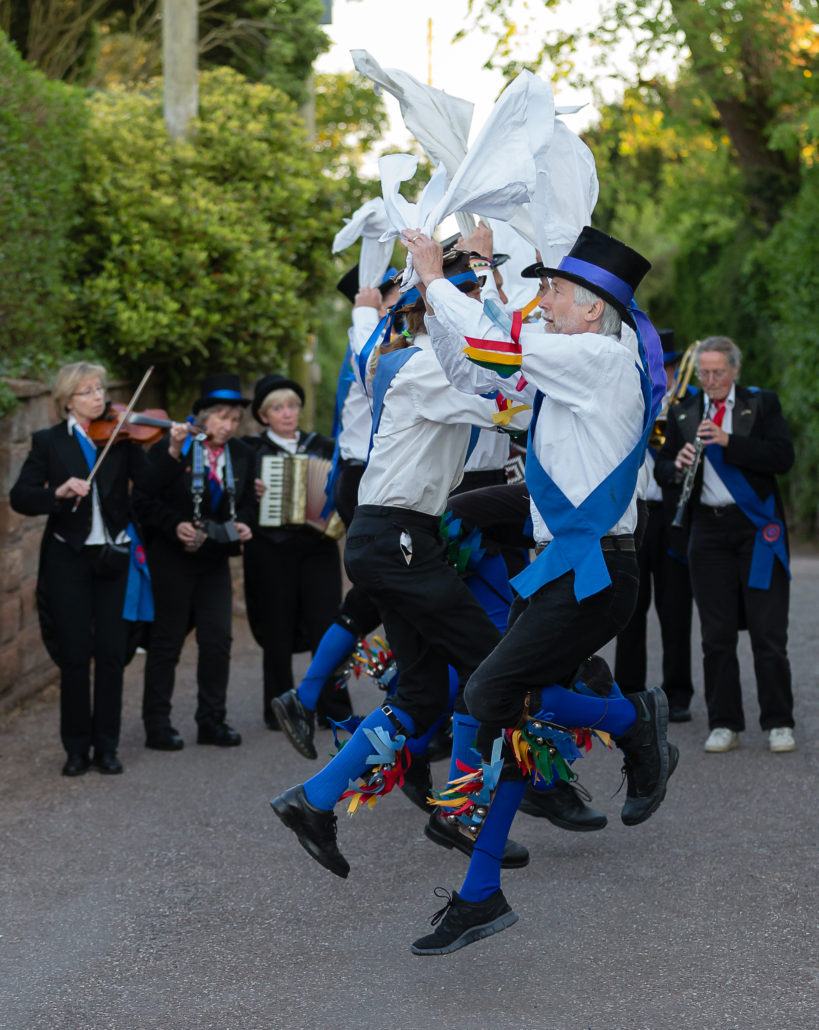 Great Western Morris started up in Exeter in the late 1960's. They dance mainly around Exeter in East Devon but have travelled widely over the years as far as Ireland, France, Italy, Czech Republic, USA, and Cornwall. Great Western likes to put on a good show of 'Performance Morris'; dancing with character, audience contact, and a high entertainment value.
"Most of our dancing is based on styles danced in two Cotswold villages; Leafield (usually known amongst Morris Dancers as 'Fieldtown') and Bampton. We try not to take it too seriously, but work hard to please."
Hadrian Clog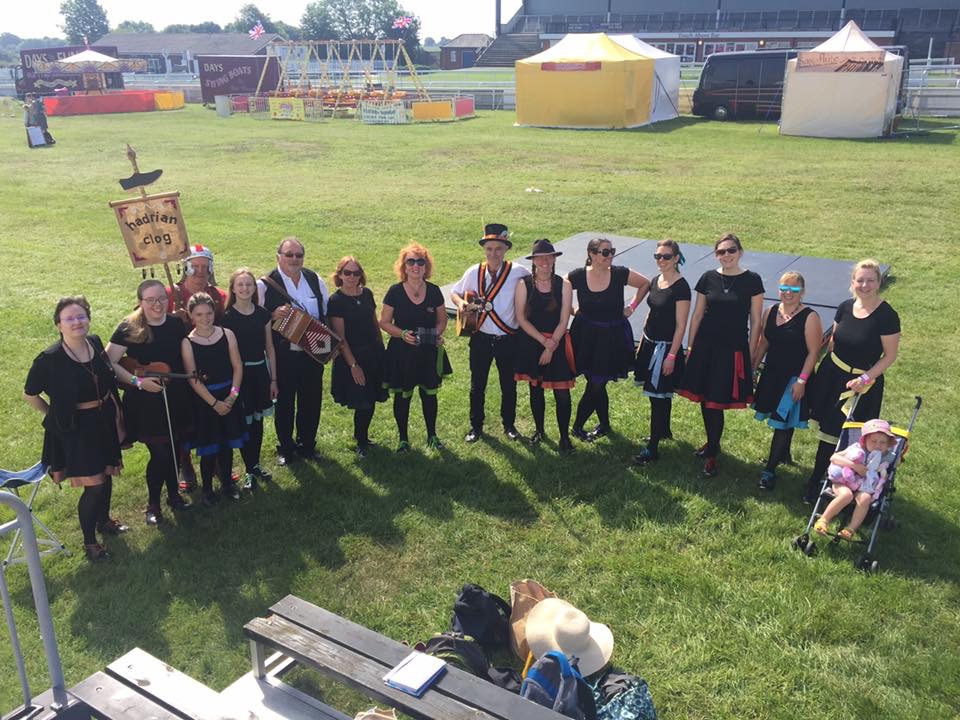 Hadrian Clog are based along the Tyne Valley in Northumberland and perform a wide variety of clog and hard shoe dances from the North East of England and beyond!
We take traditional steps, give them our own 'Hadrian' twist, and pair them with our favourite folk tunes and songs. While our dances are based on traditional steps, we also enjoy creating and choreographing our own unique dances.
Hadrian Clog formed as a team in 2012, and since then both our ranks and our repertoire have grown. We now perform more than 20 different dances, mainly from the North of England, but also from as far afield as Ottowa and Cape Breton in Canada, as well as Scotland and Ireland.
The Ironmen and Severn Gilders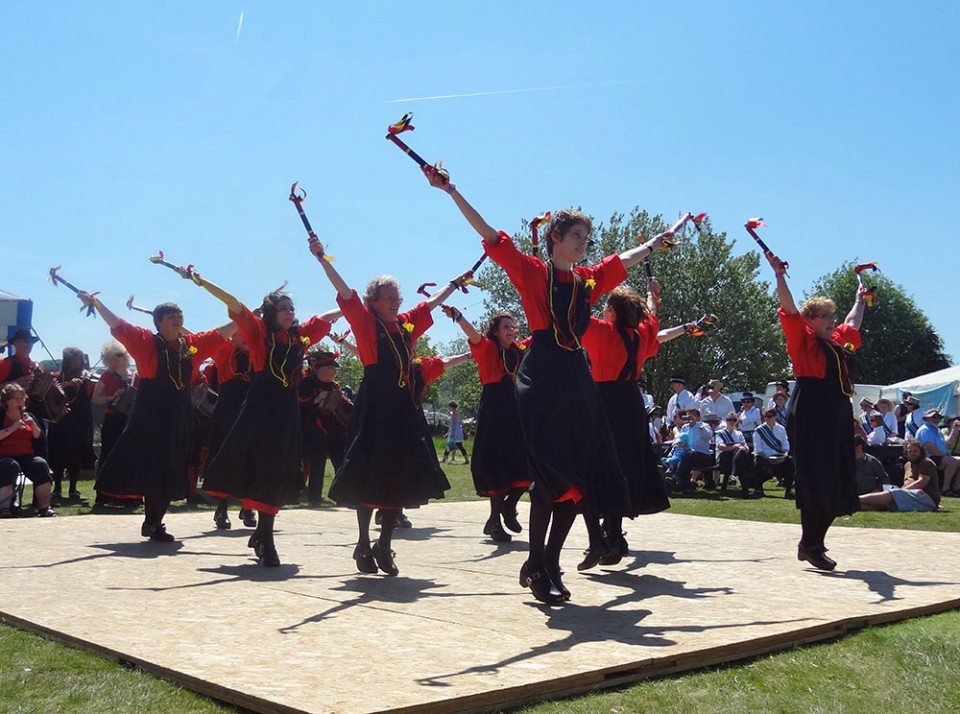 The Ironmen and Severn Gilders are two separate but closely associated teams based in the historic town of Ironbridge in Shropshire. The Ironmen are a men's team who dance in the Welsh Border tradition, while the Severn Gilders are a women's team who dance North-West morris.
Although they dance separately, they almost always appear together as many of the dancers from one team appear as musicians for the other. Originally formed in 1976, they have danced at festivals all over the country and Europe. The team colours are black and red.
JD & Folk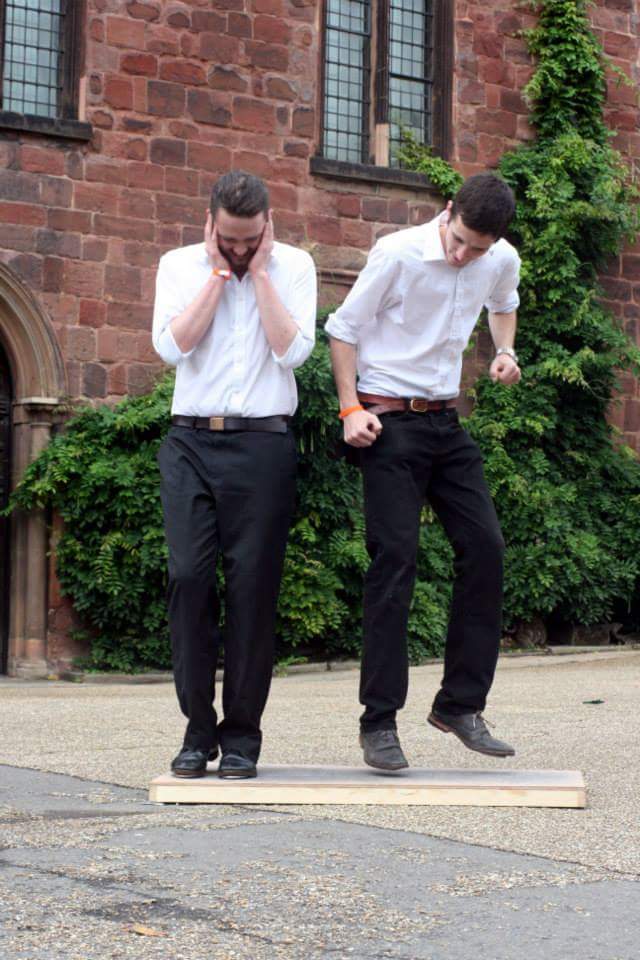 JD & Folk are Jake, Dan and friends. Jake and Dan both learnt Appalachian dancing from Ira Bernstein and Sue Coe, particularly the improvised element of Appalachian flatfooting and have performed and taught this style to great reception from audiences around the country. When performing though their style takes on influences from Clog, Tap, French-Canadian and whatever their own imaginations throw up at the time. Over the past few years they have been lucky enough to build up a list of fantastic musicians and guest dancers allowing them to adapt to all situations thrown at them at festivals and to come up with fresh and fun ideas at short notice.
"Appalachian dancing's Chas & Dave"- Rich Arrowsmith
Kickin' Alice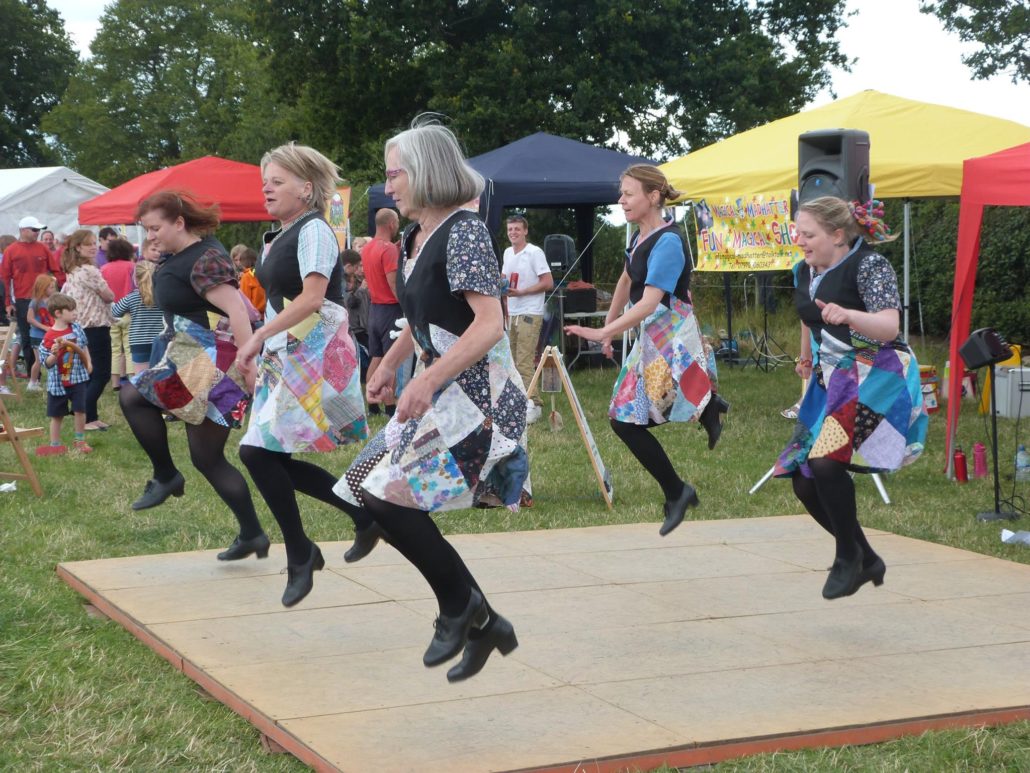 Kickin' Alice are a lively, entertaining group of Appalachian step dancers who perform with their band Kickophony. They provide a dynamic visual and sonic performance incorporating the percussive 'root' styles from the UK and Europe as well as the more modern American clogging styles. Kickophony play upbeat Old Time, Bluegrass and Folk music, and also perform at concerts without the dancers. With performers from Staffordshire, Shropshire, Herefordshire, and the West Midlands, Kickin' Alice perform all over the UK at a variety of venues from dance, music, and street festivals to fetes, weddings, and parties.
Knights of King Ina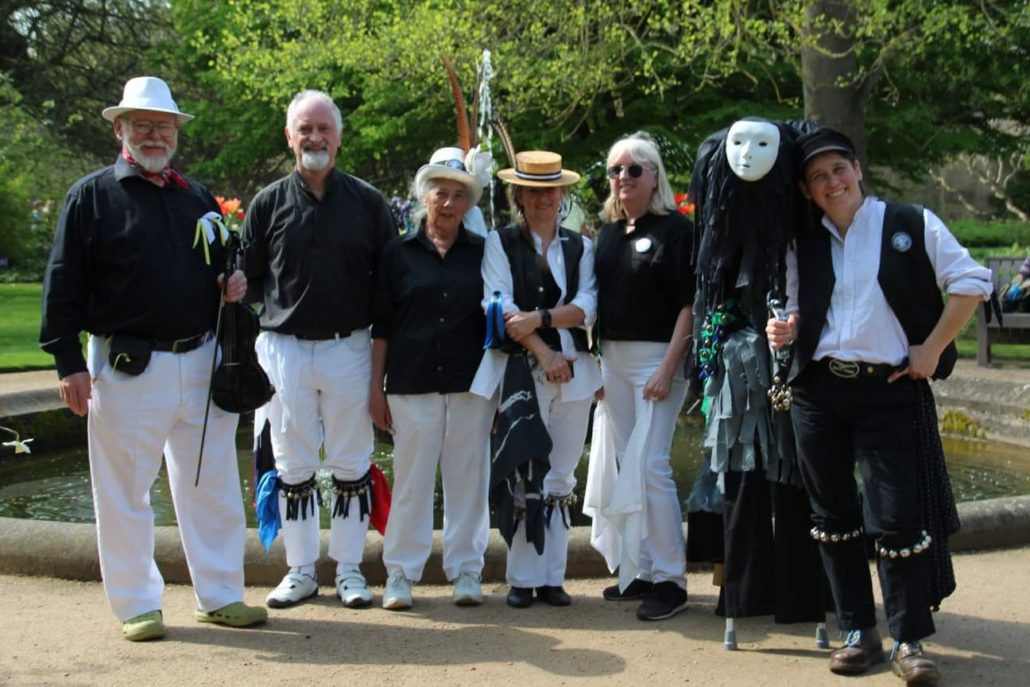 The Knights of King Ina perform solo and duet morris jigs from the Cotswold Traditions, starting with the earliest known written notation of dance and music. We have constructed and adapted jigs in the style of these traditions, and some of our own traditions. We dance with some vigour (for the mostly over 50s) and feel this is how the morris is best performed.
We were formed in 2011 as a masterclass group offering workshops both for ourselves and for festivals. The dancers are from other teams from the South Coast to Herefordshire meeting regularly for practices.
Nonesuch Morris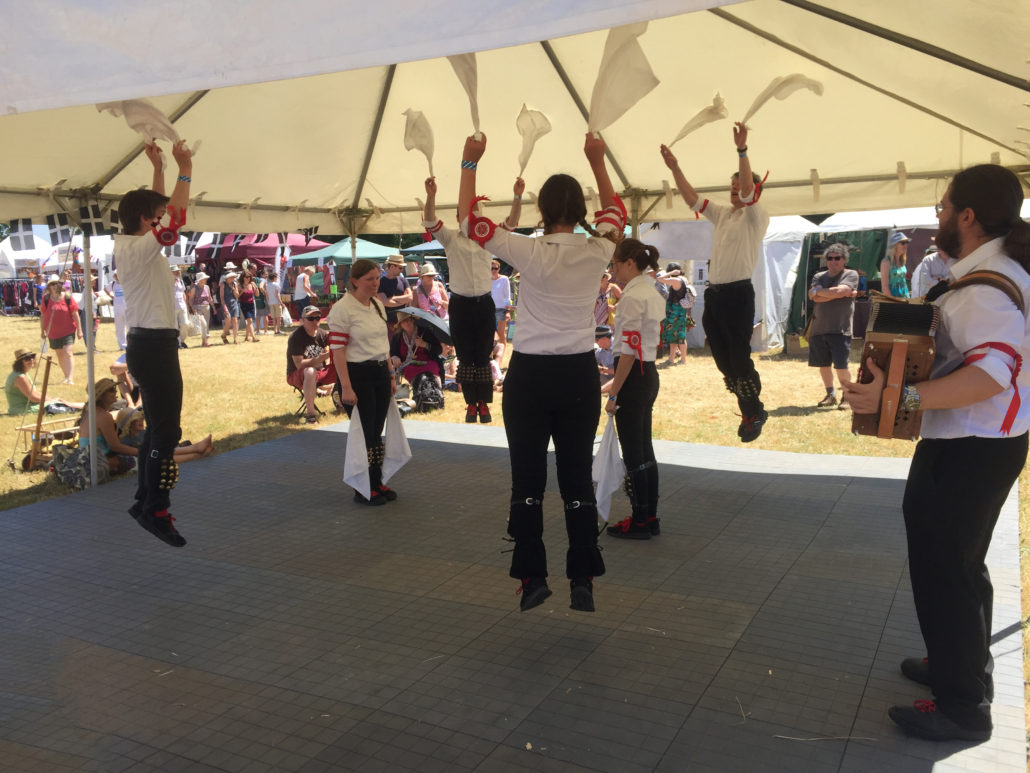 Nonesuch Morris is a Bristol-based Cotswold morris team that performs dances in the styles of Raglan, Bucknell, and Sherborne. Our repertoire includes dances for two, three, four, five and six dancers which we aim to perform to a high standard while providing an entertaining show for any audience that displays Cotswold morris at its best.
Nonesuch Morris formed as a team in 2009 and is proud to be celebrating its 10th year at some of the best festivals in 2019.
Nonesuch (noun) 1. a person or thing without equal 2. Lychnis chalcedonica, The Flower of Bristol
Northgate Rapper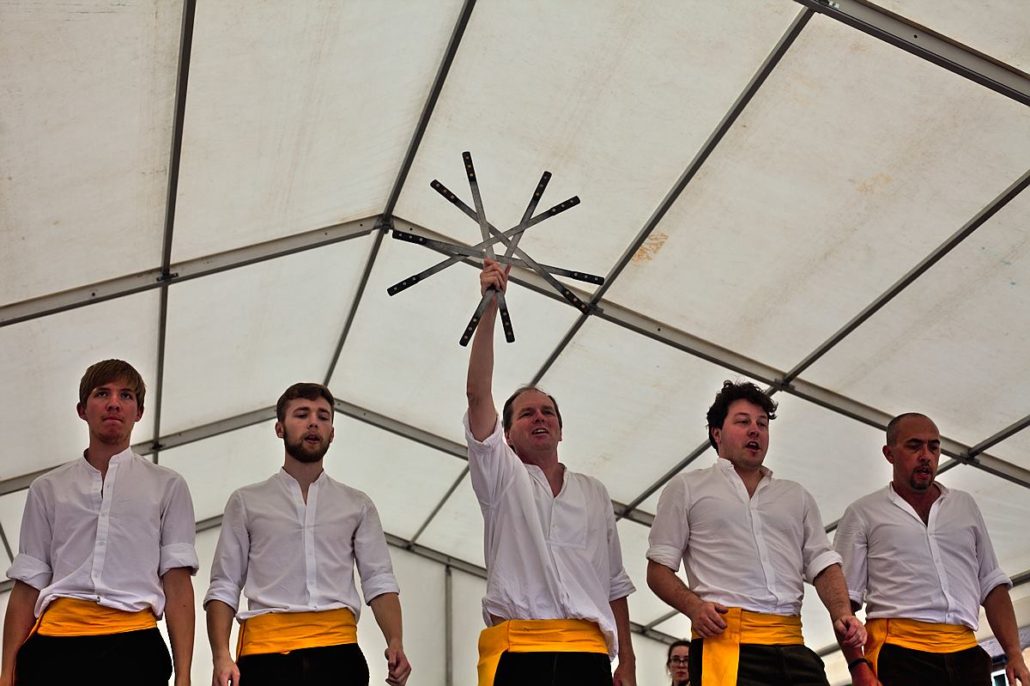 Northgate Rapper are Bath's finest (and only) male sword dancing team. Founded in 1991, they continue to ignore the magistrate's rulings and perform high energy rapper dances in any pubs that will let them in. Over the last quarter of a century, they've performed at a huge number of festivals, including a three-year residency at the mighty Glastonbury Festival itself. To track them down, follow the trail of excited punters and broken lights, and expect unique dances, superlative swordsmanship and dynamic performances. Oh, and mild peril of course.
Old Speckled Hen North West Clog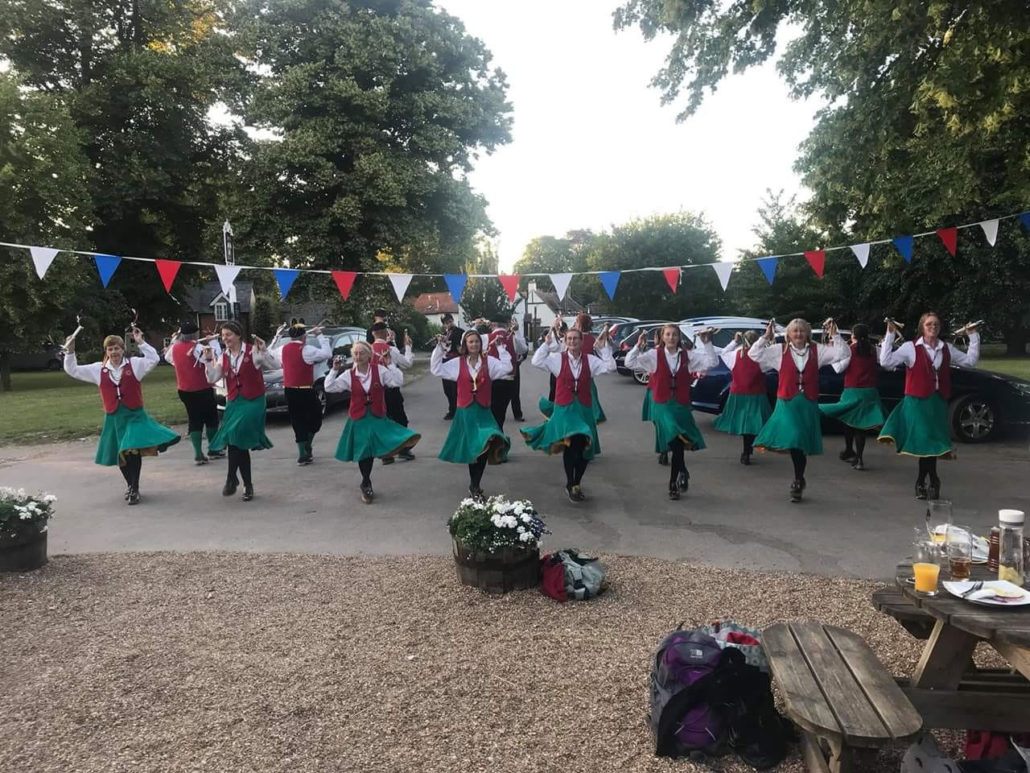 Old Speckled Hen are a mixed side based at Milton Heights near Abingdon and Didcot in Oxfordshire. They dance North West clog morris that originates from the industrial towns in Cheshire and Lancashire. Originating from a processional format, the dancing involves much stepping and the rhythm is accentuated by the wearing of clogs. Short sticks or sometimes slings are used to accentuate the movements of the dance. Their striking red, green, yellow and white costumes are inspired by the early-industrial period Rushcart ceremonies which took place in Wakes Weeks. Old Speckled Hen was started in 1992 and was named after one of the beers from the Morland Brewery in Abingdon.
The Shropshire Bedlams & Martha Rhoden's Tuppenny Dish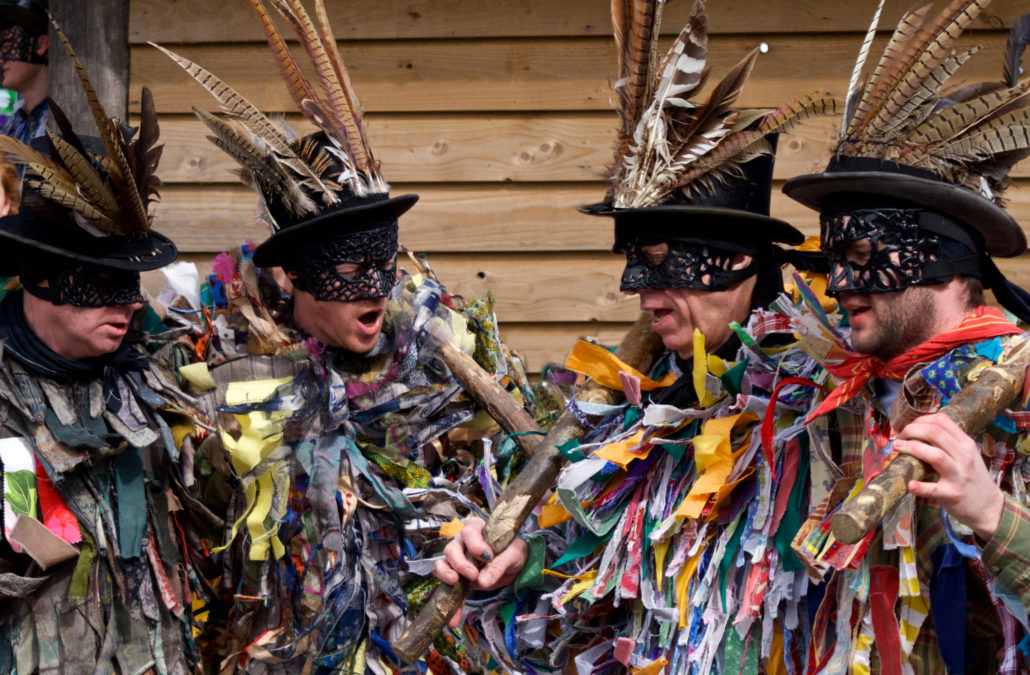 When these two teams from Shropshire burst onto the morris dancing world in the mid 1970s, nobody knew what had hit them. They were the first to go round together as companion teams of men and women and the first to concentrate exclusively on the previously neglected dances from Shropshire, Herefordshire and Worcestershire – Border Morris. Both sides present radical and revolutionary interpretations of the original dances, along with a large dollop of repertoire specially concocted by team members.
These days you can see teams inspired by the Bedlams throughout the morris world, whereas only the most discerning have followed the lead of Martha Rhoden's. Now in their 42nd year they continue to put on a show full of sparkling originality and vitality.
Shropshire Sharpshins Rapper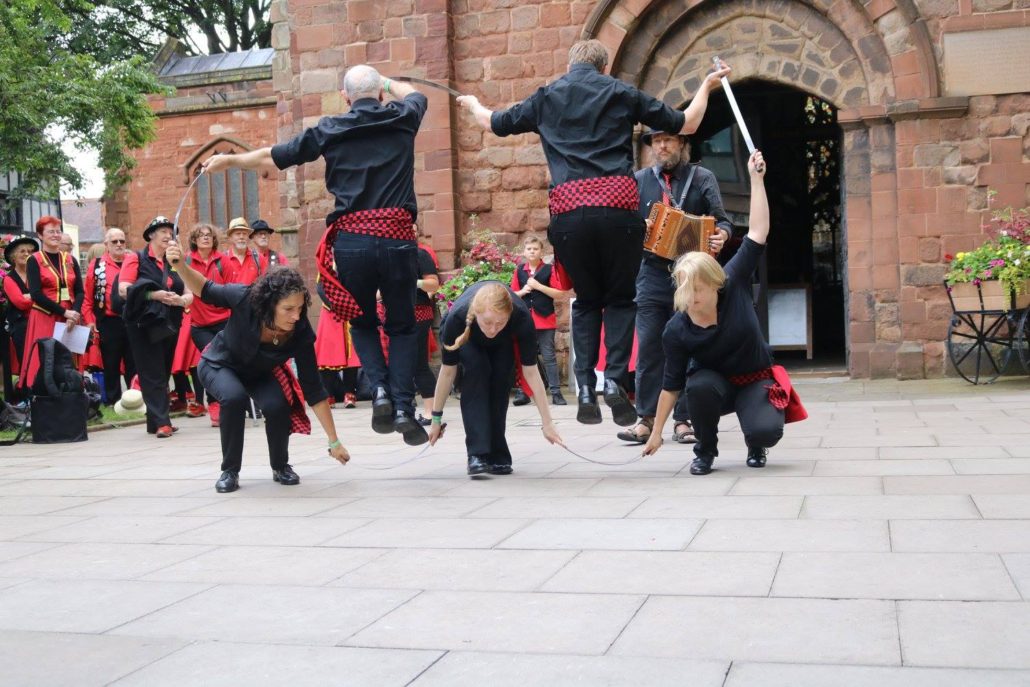 "I am of Shropshire, my shinnes be sharp."
We are Shropshire Sharpshins Rapper – the best rapper sword side in the county! Look out for our quick feet, sharp wit, and chequered sashes as we move swiftly through our county town, performing fast paced, intricate, and acrobatic dances. May our shins be ever sharp!
Whip The Cat Rapper and Clog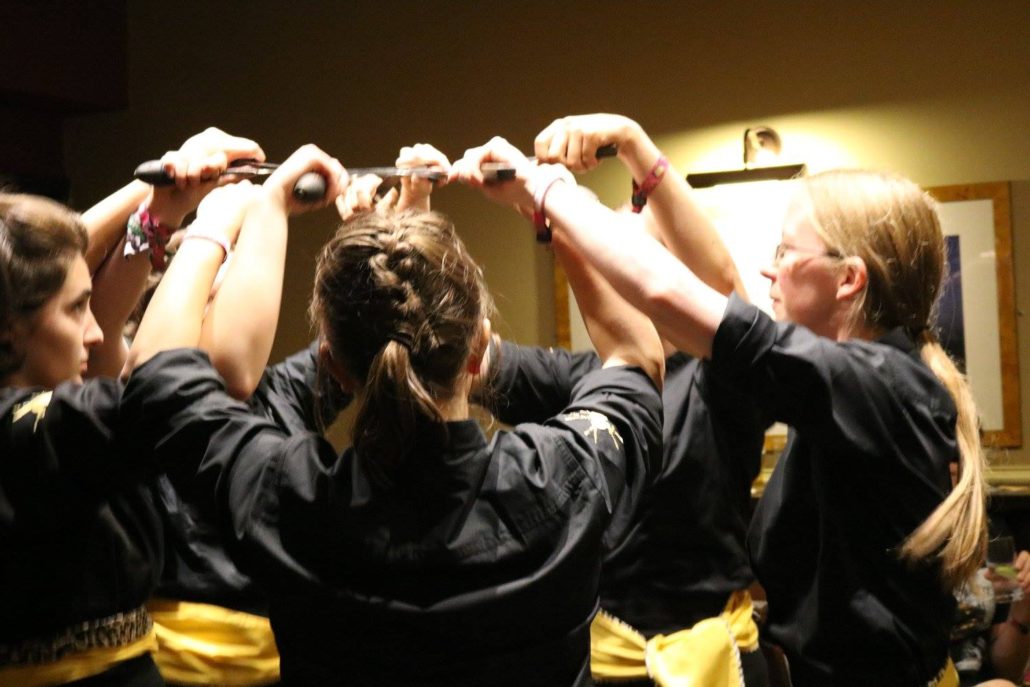 Whip the Cat Rapper & Clog are a lively women's rapper team from Nottingham with a pleasing blend of youth and experience. They perform a number of exciting rapper dances, both traditional and of our own compilation, together with some lovely step clog routines. They are a regular folk festival side and proudly won the premier trophy at last year's DERT (Dancing England Rapper Tournament), plus they came away with a host of other trophies! Kit: black shirts, black skirts and yellow sashes, with the odd bit of cat-print if you look closely!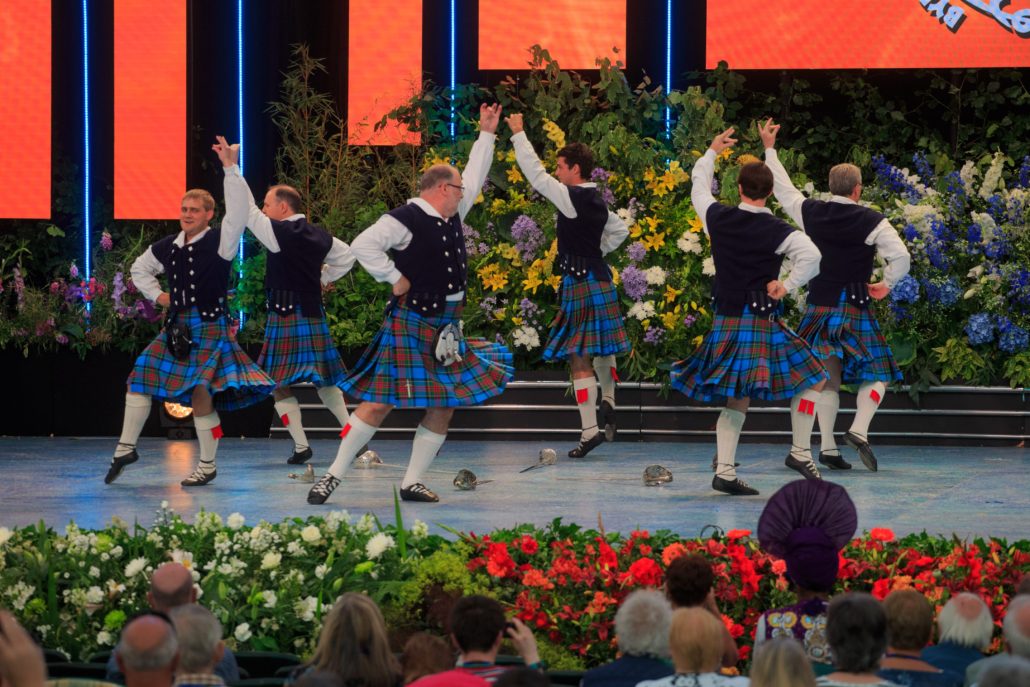 The Corryvrechan Scottish Dance Display Team are well known for their varied and exciting displays of Scottish Country, Highland, Step and Hebridean dancing. The team has performed at many folk festivals, ceilidhs and charity events in the UK and has danced at international festivals in Canada, USA, Slovenia, Spain, Germany, Hungary, Sardinia, Poland, Russia, France and Ireland. Closer to home Corryvrechan have regularly given 'sell out' UK Concerts and have won a number of prizes at the Llangollen International Eisteddfod in recent years.
Corryvrechan's focus is to 'showcase' the wonderful and varied tradition of Scottish dance and music. The team's performances create dynamic contrasts of style, shape and colour whilst always remaining faithful to the fundamental principles of the many different aspects of the Scottish dance tradition. This heady mixture inspires dancers and musicians from across the country to travel vast distances to rehearse and be part of a team which is truly dedicated to entertaining its audiences by bringing the spirit and excitement of Scotland's music and dance to all who watch.