We have a strong tradition of Morris and Rapper dancing at Shrewsbury and have proudly welcomed teams from home and abroad over the years.
They are a vital part of the event, bringing colour and an extra dimension to the festival, where they perform around the site and in the town centre. Beware where you decide to go for a refreshing drink as you never know which town centre hostelry the rapper sides will turn up in!
As well as the on-site procession, we have a parade through the town centre, taking dance to the people of Shrewsbury, on the Saturday afternoon, usually led by the Mayor of Shrewsbury. Shop assistants and people in the town usually get a few surprises!
Here are the morris and dances sides that'll be at Shrewsbury this summer: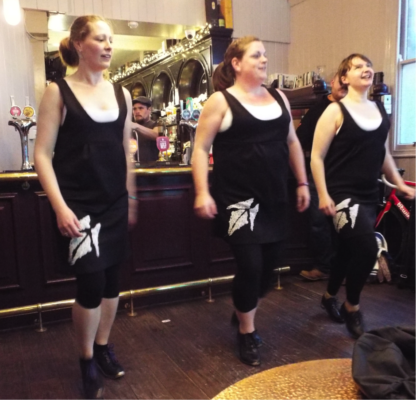 After Dinner Clog was formed to show how lyrical and joyful traditional English step clog can be. The team was founded by Vikki Lewis. Claire Wright and Alley Bridge-York complete the trio and together they form a wonderful unit who have great step synchronisation and cheeky audience interaction.
The team thrives on freedom of expression and this is best shown through the music choices which often shy away from more traditional tunes to allow for a playful vibe.
Musical talent is provided by Manny Grimsley (fiddle) and Will Allen (fiddle/melodeon). ADC are a small close-knit group of friends and derive their name from eating together after weekly practice.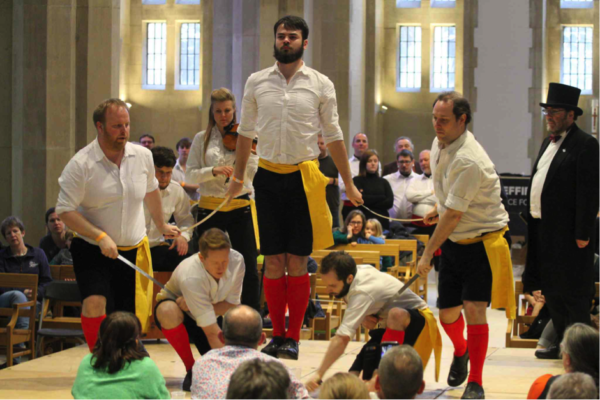 Black Swan are a rapper sword dance team from Yorkshire. Based in which ever city they can decide on, Black Swan are a team of bon viveurs who have made the colours red and gold synonymous with a fast, physical and acrobatic rapper style. Please encourage them by going wild, buying them copious amounts of beer and massaging their egos in any way that you see fit.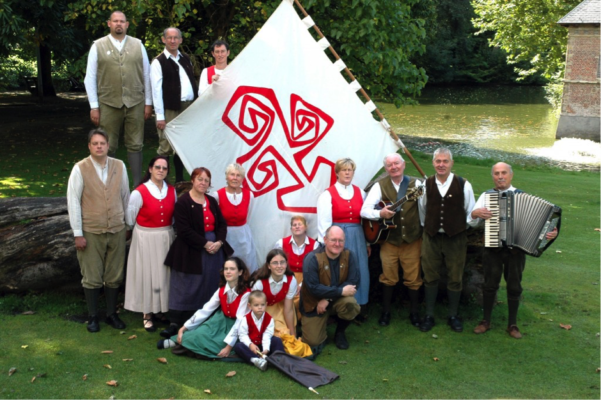 Boerke Naas, are a "Volkskunstgroep" from Sint Nicklaus in Belgium, founded in 1949. The current group showcases the traditional folk arts of their own region; the dances, songs, music, crafts as well as the ancient Western European tradition of flag waving.
They are proud to display and preserve their own heritage, but have also been inspired by the dances from other areas, particularly the Morris traditions of England.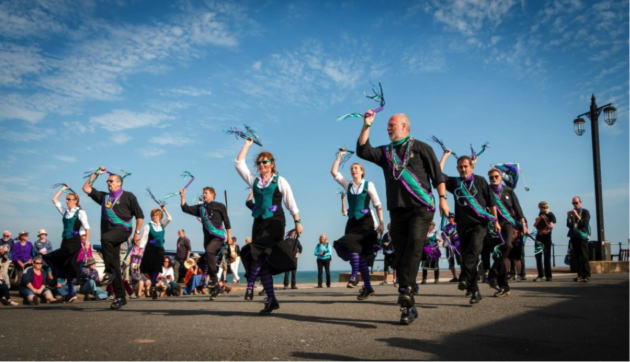 Although a relatively new side, Customs and Exiles have quickly established themselves as one of the best North West Morris sides in the country.
Formed by experienced dancers and musicians who wanted to create a morris side with a high level of energy and precision, they have raised the bench-mark by which other sides compare themselves. Together with their awesome band, they are a morris side you are advised not to miss.
Five Rivers Morris was formed in Sheffield in 2008 by a bunch of like-minded blokes who wanted to dance some morris.
With an average age around the early-30s, their dancing is clean and crisp, taking full advantage of their relative youth to dance Cotswold Morris with energy, vigour and enthusiasm.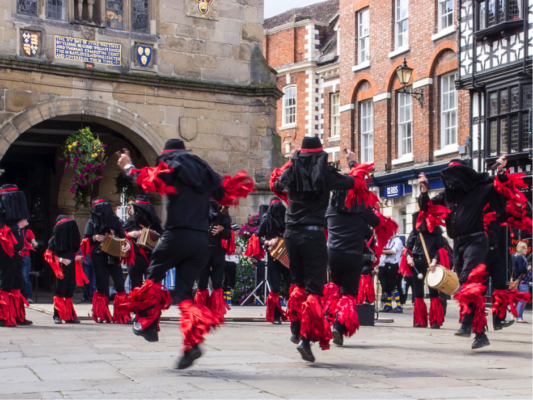 Based in Harrogate, Flag and Bone Gang were founded in 1995 with the intention of reviving a largely forgotten tradition from the East Riding of Yorkshire which had been researched by Paul Davenport some years earlier and described in his book "The Forgotten Morris".
Performed in midwinter by gangs of unemployed farm labourers, the dances distinctively combine some in which the dancers waved flags whilst in others they rattled nick – nack bones, hence the team's name.
Since 1995 the team has developed its own repertoire and style building on Paul's original notes. They have performed at many major festivals in the U.K. and have danced in Canada, the United States, Germany and France.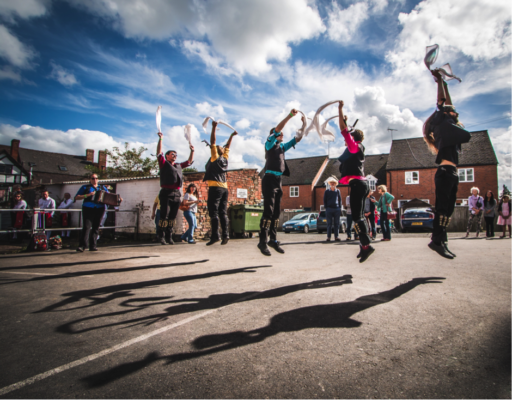 Harlequin Morris pay tribute to a living tradition from the Cotswolds in an exciting, energetic and uplifting way for both the dancers and their audience. The side formed in 2013 by a small group of friends from around the country.
They dance a combination of traditional and self-written dances hailing from the Raglan, Sherborne, Ascott-under-Wytchwood and Bucknell traditions, and are accompanied by solo musicians who feel the dancing as much as the dancers do with their grace and attention to detail.
You'll be able to spot them with their multicoloured shirts and white and black ribbons.
Ironmen and Severn Gilders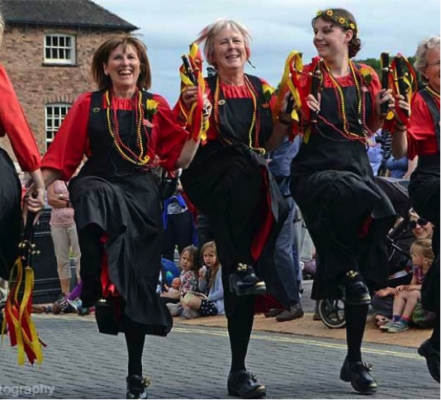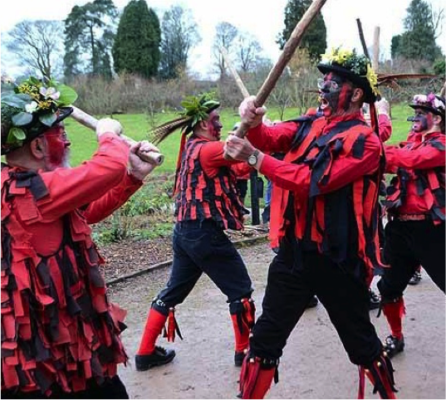 The Ironmen and Severn Gilders are two separate but closely associated teams based in the historic town of Ironbridge in Shropshire. The Ironmen are a men's team who dance in the Welsh Border tradition, while the Severn Gilders are a women's team who dance North-West Morris.
Although they dance separately, they almost always appear together as many of the dancers from one team appear as musicians for the other.
Originally formed in 1976, they have danced at festivals all over the country and Europe. The team colours are black and red.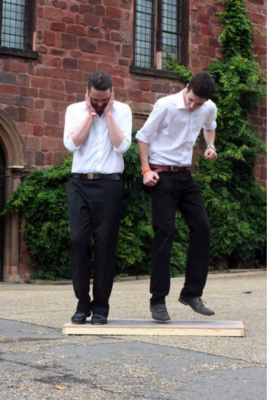 JD & Folk are a Jake, Dan and friends. Jake and Dan both learnt Appalachian dancing from Ira Bernstein and Sue Coe, particularly the improvised element of Appalachian flatfooting and have performed and taught this style to great reception from audiences around the country.
When performing though their style takes on influences from Clog, Tap, French-Canadian and whatever their own imaginations throw up at the time.
Over the past few years they have been lucky enough to build up a list of fantastic musicians and guest dancers allowing them to adapt to all situations thrown at them at festivals and to come up with fresh and fun ideas at short notice.
"Appalachian dancing's Chas & Dave"- Rich Arrowsmith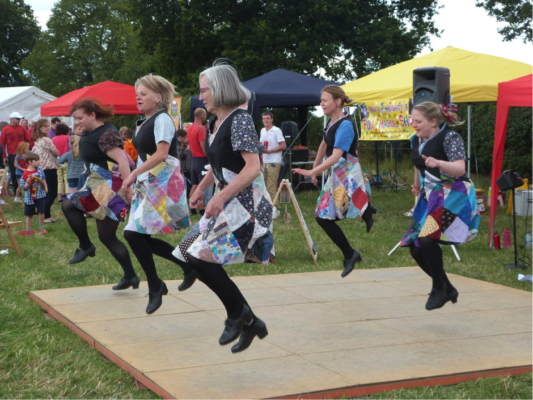 Kickin' Alice are a lively, entertaining group of Appalachian step dancers who perform with their band Kickophony.
They provide a dynamic visual and sonic performance incorporating the percussive 'root' styles from the UK and Europe as well as the more modern American clogging styles.
Kickophony play upbeat Old Time, Bluegrass and Folk music, and also perform at concerts without the dancers.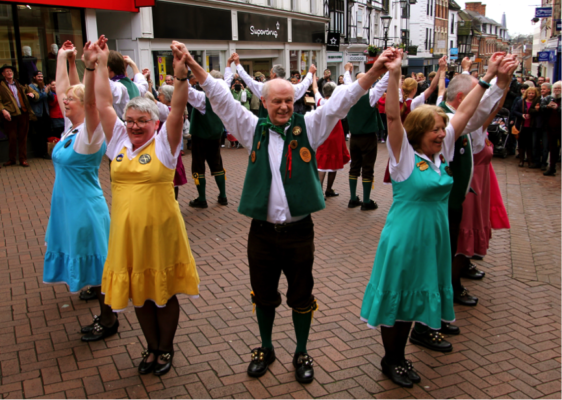 Shrewsbury Morris were formed in 1976, providing an opportunity for both men and women to practice and perform traditional and contemporary dances in the traditional style – celebrating and keeping alive the rich heritage of our country.
They are comprised of three teams: The Shrewsbury Lasses, who perform dances in a range of styles including handkerchief, short stick and garland dances.; The Bull & Pump Morris Men, who dance vigorous stick dances based on traditions from the Welsh Borders, as well as some more traditional Cotswold Morris and dances; and Shrewsbury Clog, who have developed a unique style of performance featuring clog and step dances from across the country.
Shropshire Bedlams and Martha Rhoden's Tuppenny Dish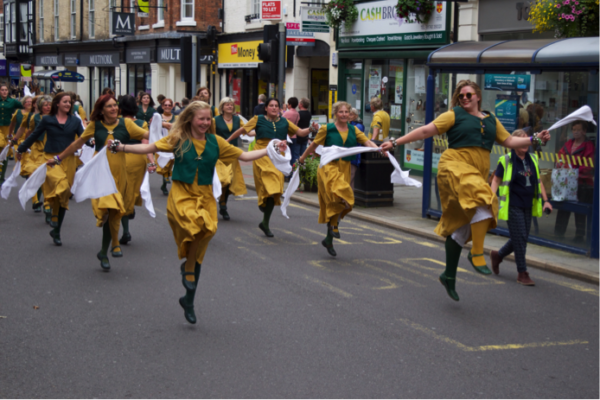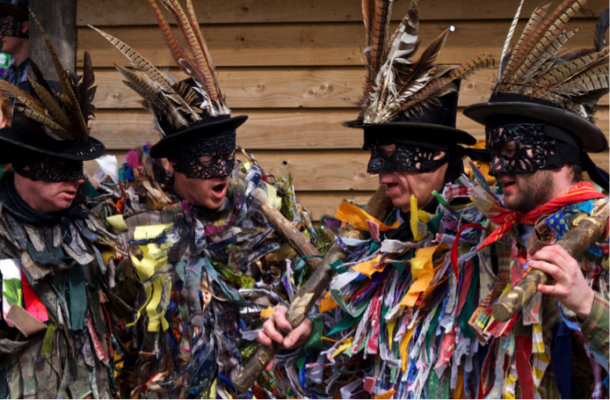 When these two teams from Shropshire burst onto the morris dancing world in the mid 1970s, nobody knew what had hit them. They were the first to go round together as companion teams of men and women and the first to concentrate exclusively on the previously neglected dances from Shropshire, Herefordshire and Worcestershire – Border Morris.
Both sides present radical and revolutionary interpretations of the original dances, along with a large dollop of repertoire specially concocted by team members.
These days you can see teams inspired by the Bedlams throughout the morris world, whereas only the most discerning have followed the lead of Martha Rhoden's. Now in their 42nd year they continue to put on a show full of sparkling originality and vitality.
Shropshire Sharpshins Rapper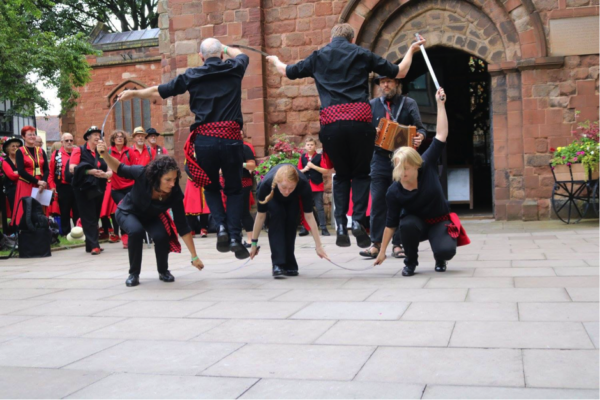 "I am of Shropshire, my shinnes be sharp".
Shropshire Sharpshins Rapper are the best rapper sword side in the county!
Look out for their quick feet, sharp wit, and chequered sashes as they move swiftly through their county town, performing fast paced, intricate, and acrobatic dances. May their shins be ever sharp!